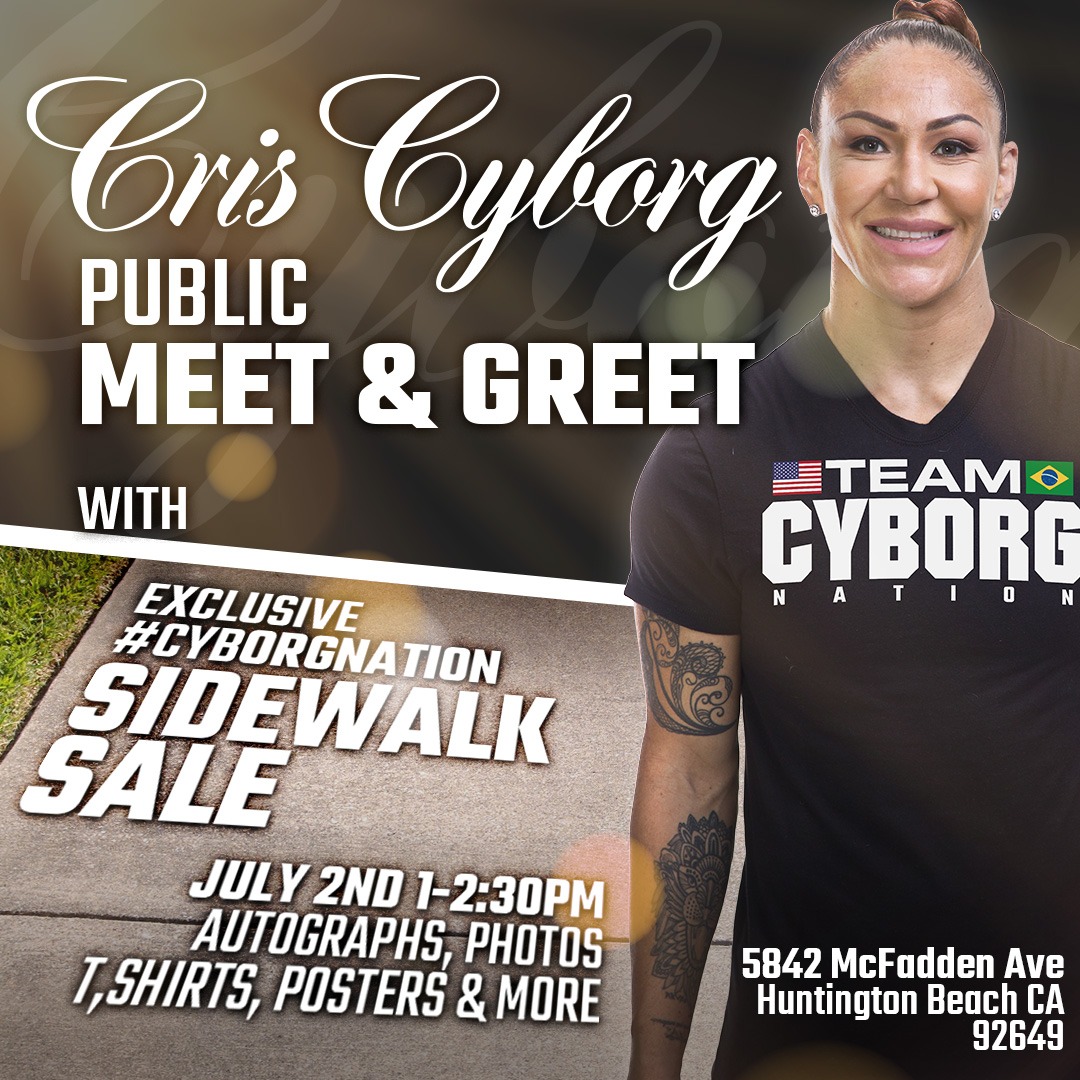 Fans who have been wanting an opportunity to meet MMA's only Grand Slam Champion and current Bellator MMA Champ Cris Cyborg will have their opportunity July 2nd in Huntington Beach as the Champion will be hosting a FREE Meet and Greet outside of her private training facility in Huntington Beach California.  Then Champion will be available for pictures and autographs with friends, family, and fans.
If you have been looking for a chance to pick up some of the exclusive team merchandise that you seem being worn during fight week, there will be a one time sidewalk sale featuring many out of production limited printed Cyborg Nation Merchandising including T shirts, Rash Guards, Leggings, Competition Fight Shorts, StrikeForce, UFC, Bellator Event Posters and more available during the Sidewalk Sale.
This appearance is a great opportunity for MMA fans unable to travel to Las Vegas for International Fight Week and will be a chance to get to meet Cris Cyborg at her own private training facility located in Orange County.  There is no registration needed.  If you are unable to attend the Sidewalk sale, or if you are looking for another opportunity to meet Cris Cyborg be sure to mark your calendars for the Aug 20th Empowered Grappling Championships.
Females interested in spending the day training with Cris Cyborg and her team of coaches will have an opportunity July 30th when the PinkBelt Fitness camp is back with the first Women's Only Retreat since the start of the health pandemic.  Spend the entire day training martial arts, fitness, and fun as an entire day is planned by Cris Cyborg and her team of coaches with the goal of having fun and creating a safe and friendly environment welcoming to beginners in the goal of creating friendships capable of lasting a lifetime! For more info on the PinkBelt Fitness Retreat July 30th or to Register CLICK HERE