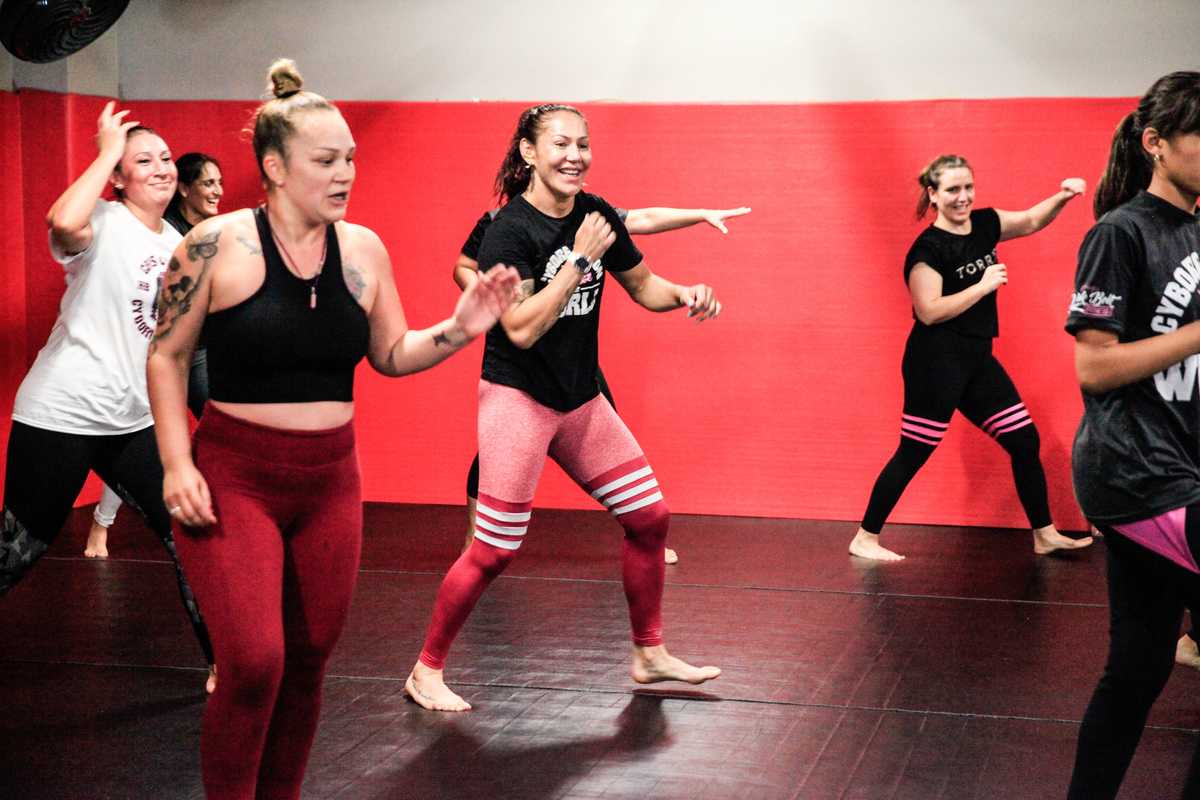 Join MMA's only Grand Slam Champion Cris Cyborg for an exclusive Women's Only day of training inside of her private training facility in beautiful Huntington Beach, California.  Arriving at the facility for a Saturday 9am checkin, women will receive a light coffee and snack during registration and introductions before we start a full day filled with fun and amazing activities.
In a fun and safe environment led by Cris Cyborg and her team of guest coaches you or a friend will get the opportunity of a lifetime spending the day learning about fitness, self defense, and enjoying sisterhood with other women looking for the same safe memorable lifetime experience.  The curriculum include several guest instructors covering who lead classes while Cris Cyborg is training with or coaching along side them as you train side-by-side for a full day of Wrestling, Boxing, Brazilian Jiu Jitsu, Muay Thai, and Fitness training (Mixed in with a whole lot of laughs, tons of games, and even a few cool prizes) to ensure everyone leaves with memories they will cherish forever.
While most of the classes will have a martial arts, fitness, or self defense type of theme to the curriculum, every retreat Cyborg selects a 'Fun Elective' course which everyone gets to enjoy.  Previously the retreat has hosted classes such as, Salsa and Latin dance, Thai Massage, Introduction to first aide safety and CPR training, and many other fun engaging electives for the group.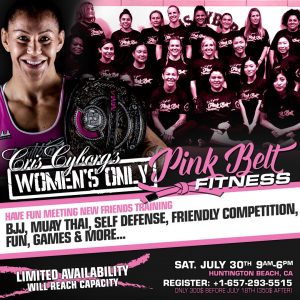 Arriving on site at 9am participants will enjoy a full day of scheduled classes, games, and activities before a break for lunch and then a start to the second half of the day, with the event finishing after Dinner at around 6:00 PM PST.   The PinkBelt Fitness Retreats and Camps are a rare opportunity to get to know Cristiane Justino, the women behind the name 'Cris Cyborg'.
You get to spend the entire day training along side her, and her dedicated team of coaches, asking many questions you've always wanted to have answered and getting a chance to see what a typical day of training for the Winningest Female Fighter of All time is like.
To ensure each participant gets a proper amount of interaction with Cris and dedicated attention from the coaches, participation IS LIMITED and WILL SELL OUT.  Once the retreat reaches capacity registration will be closed.  As this is the first PinkBelt Fitness since the COVID restrictions started, we reaching capacity sooner than previous retreats and because of this we ask that you do not wait to register or secure a deposit for your space.
Register before July 18th and the Full Day of Training with Cris Cyborg, her guest coaches, with a T-shirt and a Dinner is only $300.  Registration after this date will be $350 To Guarantee your place.
To secure your space with a deposit or for any additional questions please call +1-657-293-5515
Ladies who will be flying to Southern California to attend have options of LAX(45 mins), Long Beach (20 mins), and John Wayne Santa Ana (20 mins) for flight options. Close Hotel accommodations could include Travelodge Ocean Front, Extended stay America Huntington Beach, or many other suitable locations near the 5842 McFadden Ave facility.