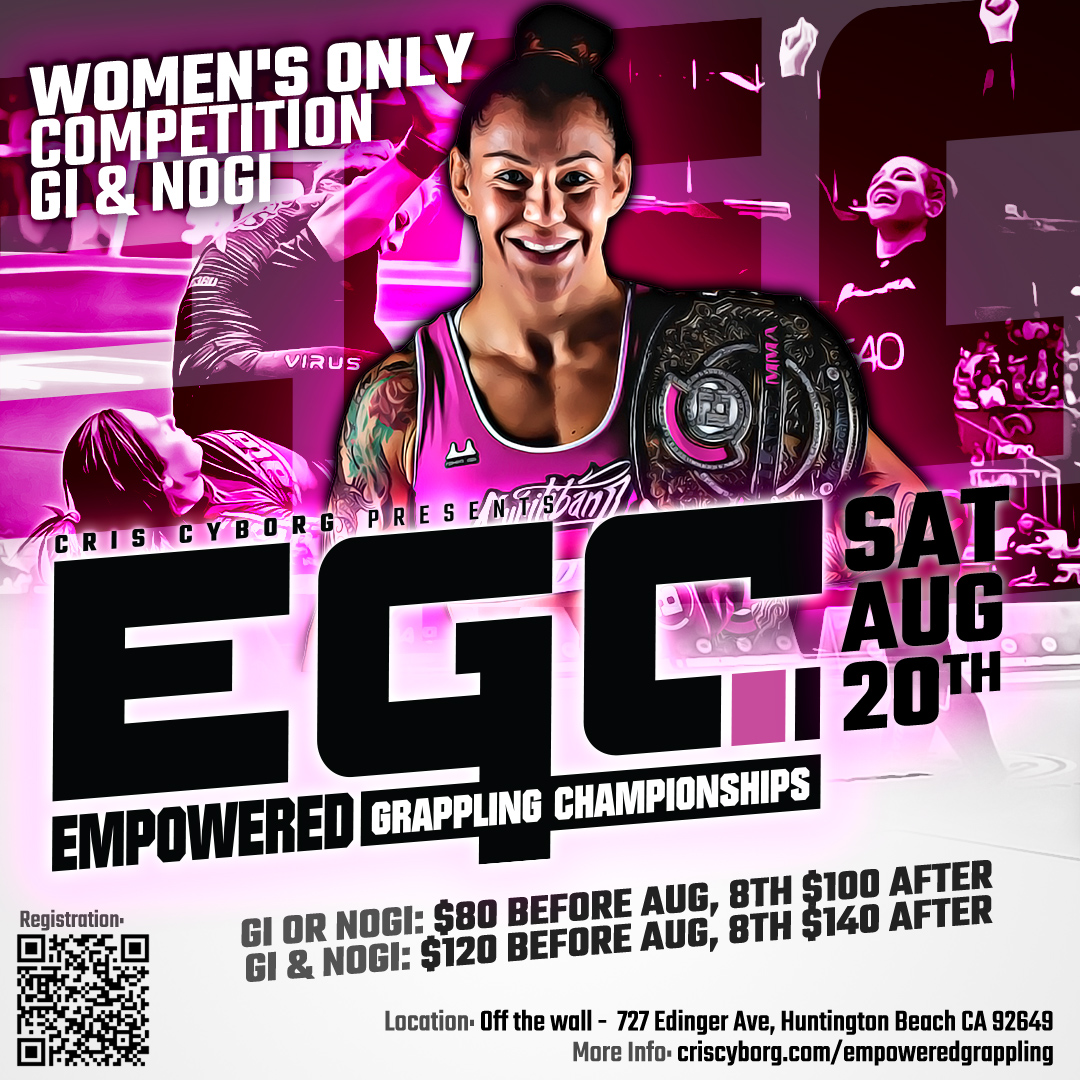 Last week MMA Grand Slam Champion Cris Cyborg announced the formation of a new Grappling League focusing on Women competitors with the announcement of the Ladies Only Empowered Grappling Championships. Today we are excited to announce the full details, in addition to the opening of the tournaments Registration.
Empowered Grappling Championship will be a safe and fun competition with the goal of creating opportunities to challenge ourselves and gain confidence through competition in a safe and friendly environment where women can challenge one another to achieve their best.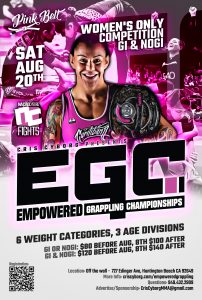 The tournament will feature both Gi and Nogi divisions, 3 age, and 6 different weight categories, for women to compete in with the goal of creating a safe and friendly atmosphere for competition.  The Rules will follow IBJJF guidelines with no advantages awarded, decisions being decided by Mat ref.  Full details below.  The Venue features Arcade Games, Food, Drinks, Bowling, and more. Mark your calendars now and bring your friends and family for a picture with Cris Cyborg and her Championship Belts!
Date
Saturday, August 20, 2022
Location
Off The Wall Social Huntington Beach
7227 Edinger Ave, Huntington Beach, CA 92647
Venue features arcade games, food, drinks, bowling, and more!
Ages
Junior: 2005-2007
Adult: Born in 2004 and older
Master: Born in 1992 and older
Gi Divisions
White
Blue
Purple
Brown
Black
No Gi Divisions
Beginner = White belt
Intermediate = Blue & Purple belts
Advanced = Brown & Black belts
Weight Divisions
*All weigh ins are WITHOUT the gi.
Up to 110lbs
Up to 125lbs
Up to 140lbs
Up to 155lbs
Up to 170lbs
171lbs and over
Price
Until August 7: $80 for one division (gi or no gi), or $120 for two divisions
Until August 18: $100 for one division (gi or no gi), or $140 for two divisions
If you have not signed up for Cris Cyborg's PinkBelt Fitness retreat and are wanting to participate in the full day of training with MMA Grand Slam Champion Cris Cyborg and her team of Coaches July 30th, there are still a few spaces remaining, to RSVP your spot in the Ladies only Training retreat CLICK HERE.