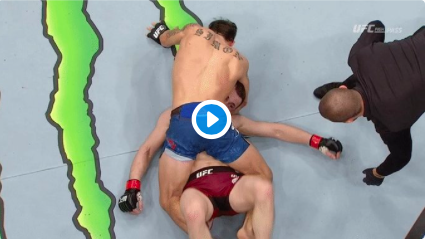 UFC newcomer Ricky Simon was making his UFC debut against Merab Dvalishvili. After losing the first two rounds 10-9 on most score cards, Merab Dvalishvili with less than a minute left in the fight shot for a takedown and was caught in a guillotine choke.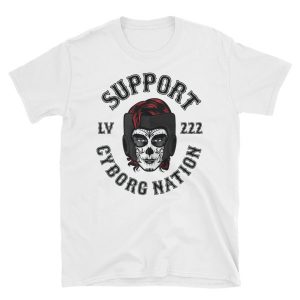 While the ref is checking to see if Merab Dvalishvili is awake, he gives his thumbs up and then the referee declared at the end of the third round Merab Dvalishvili was declared unconscious from a mounted guillotine choke.
In a great come from behind victory Ricky Simon the former LFA champion out of the Gracie Barra Portland Gym secured the guillotine choke from the mounted position. when Merab was considered unconscious the referee awarded Simon the TKO victory at 5:00 minutes of the third round. What a wild ending to UFC fight Night 128 undercard!
MERRRRRRABBBBB!!! * @MattSerraUFC voice * #UFCAC pic.twitter.com/KF7vw4DU6j

— UFC (@ufc) April 22, 2018
YIKES!! pic.twitter.com/rNJB6v9zZO#UFCAC #UFCAtlanticCity #MMA #UFC

— McDuckMMA (@McDuckMMA) April 22, 2018
Whaaaaat 😃 Ricky Simon ( @RickySimonUFC ) gets the TKO at the end of Rd 3 !!! What an amazing finish ?!?! #UFCAC pic.twitter.com/VPU5YKfKci

— PortlandMMA (@PortlandMMA) April 22, 2018
Somehow he didn't tap 👀 pic.twitter.com/tBk6I2db3u

— FOX Sports: UFC (@UFCONFOX) April 22, 2018
Just to add onto this one: Merab Dvalishvili def. Ricky Simon 29-28, 28-27, 29-28 on the scorecards before the fight was declared a TKO. #UFCAC pic.twitter.com/QKYVW1xNXj

— Damon Martin (@DamonMartin) April 22, 2018