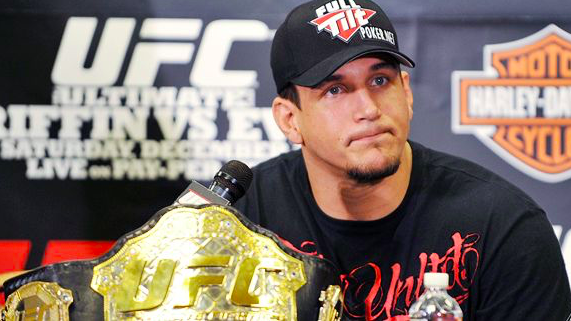 There isn't a lot that Frank Mir hasn't accomplished in his fighting career. Defeating Tim Sylvia at UFC 48 when he broke his arm via an armbar submission, Frank Mir became one of the youngest world champions in MMA, ever.  losing his next fight to Marcio Cruz, Mir went on to get victories over Antonio Rodrigo Nogueira, Brock Lesnar, Cheick Kongo, Cro Cop, Roy Nelson, Big Foot, and Todd Duffee before his recent 3 fight skid.
Speaking on his Podcast Phone Booth Fighting Mir said, "BELLATOR CAME TO ME, AND THEY'RE TALKING ABOUT OCTOBER," SAID MIR. "I WOULD LIKE TO GET A FIGHT IN WITH THE ACB BEFORE THAT, SO I CAN JUST GET MORE TIME IN CLOCKED UNDER ME SO I CAN GET MY TIMING BACK ON FOR FIGHTING. YOU CAN TRAIN AS MUCH AS YOU WANT, BUT THERE'S NOTHING LIKE THE REAL THING. I HAD FORTY SECONDS THE PAST TWO YEARS, SO I NEED SOME MORE TIME, SOME MORE ROUNDS,
HOPEFULLY NEXT FIGHT I'LL PROBABLY NOT TAKE SOMEONE AS DANGEROUS AS FEDOR, PROBABLY GET MY FEET A LITTLE BIT UNDERNEATH ME. HOPEFULLY, FEDOR, AFTER HE GOES THROUGH AND HAS SUCCESS AND WINS THE TOURNAMENT, MAYBE I CAN BE HIS FIRST TITLE DEFENSE IF I'VE STRUNG TOGETHER SOME WINS."
⚡️Frank Mir will make his @ACB_League debut at ACB's next fight card in the UK currently scheduled for August

— Jim Edwards (@MMA_Jim) May 18, 2018
Mir who made his MMA debut in 2001 with the Hook N Shoot promotion, had his second fight in IFC Warriors Challenge and then went straight to the UFC where he had all of his professional fights before a disappointing 48 second loss to Fedor Emelianenko at Bellator 198. Mir already a commentator for ACB, and a Co-promoter of their American events, will now participate in the promotion as a fighter according to Jim Edwards.