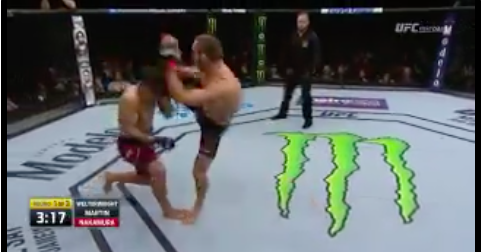 Cyborg Nation if you are unable to watch UFC FN 128 live, don't worry we will be updating you with all the action as the night continues.  Tony Martins entered into UFC Fight Night 128 getting set for his 9th fight with the Ultimate Fighting Championship promotion. Currently with a 4-4 record, the bout was to determine if his fight record would go into the positive in the UFC.
K-Taro Keita Nakamura is a veteran of over 40 professional fights.  The Japanese superstar and ADCC qualifying champion is 4-3 in his current run with the UFC promotion after fights for DEEP, Sengoku, PXC, Vale Tudo Japan, and Legend FC. promotions after having fought for the UFC in 2006 and 2007.
The fight was a firecracker from the start with Troy Martin scoring with his right hand and some aggressive striking that hurt Keita Nakamura in the first round which many had scored as a 10-9 round.  The second round saw an aggressive Troy Martin find a home for his strikes with even more confidence as he went ahead with a possible 10-8 round on someones score card. Nakamura the grappler needed to press the takedowns sooner and with more aggression. Round 3 Nakamura was able to secure a takedown only to get swept by Troy Martin. Final 3 round decision 30-27 on all three score cards for Tony Martin.
Buff gets us started in style 😎@BruceBuffer #UFCAC pic.twitter.com/pkMgmjq5Po

— UFC (@ufc) April 21, 2018
Aprieta fuerte @ktanakamura, buscando finalizar el combate #UFCAC pic.twitter.com/UQrGxyV6Sf

— Fighting Sports Net (@FSNetwork) April 21, 2018
Nice right hand from @TMartinMMA drops Nakamura in round 1! #UFCAC pic.twitter.com/UUsB9JgKqZ

— UFC (@ufc) April 21, 2018