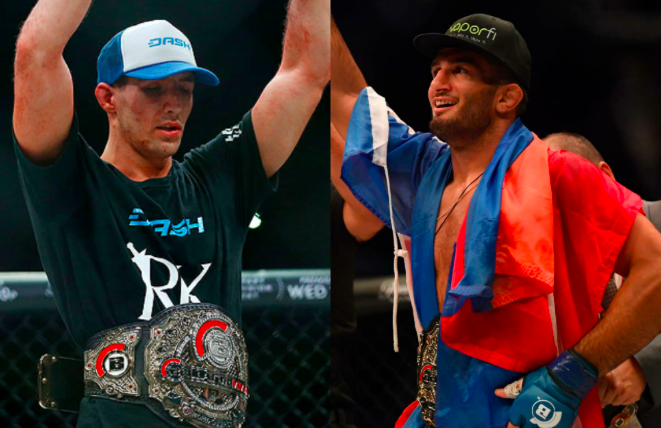 Gregard Mousasi has won basically every world title in MMA with the exception of the UFC belt.  Mousasi who finished his UFC contract with a 5 fight winning streak left the promotion as a Free Agent after being unable to agree to a contract extension with a suitable compensation package for the athlete.
With wins over Dan Henderson, Mark Munoz, Ilir Latifi, Ovince St Preux, Babalu, Mark Hunt, Rameau Thierry Sokoudjou, Jacare, Melvin Manhoef, Denis Kang, Cyborg Santos, Hector Lombard, and Makoto Takimoto Gregard Mousasi had proven himself one of the top middleweights in the world before signing with Bellator MMA.
In his first fight for Bellator MMA Gregard Mousasi face the very formidable veteran Alexander Shlemenko who had won 6 in a row including victories over Ultimate Fighter winner Kendall Grove, Sengoku Champion Yasubey Enomoto and M-1 standout Vyacheslav Vasilevsky. Facing Rafael Carvalho for the Bellator Championship at Bellator 200 fans expected a back and forth fight as Carvalho has been undefeated since his debut winning 15 fights in a row.  Instead Mousasi took control early winning in the 1st round by TKO.
After the fight Mousasi immediately let everyone know he wanted a super fight with former UFC Title Contender,  Bellator MMA Champion Rory Macdonald.  For his effort, Rory has replied;
@mousasi_mma congratulations on you dominant victory, @ScottCoker @rich_chou i know you wanted a title defense from me before challenging at middle weight. but myself vs @mousasi_mma is the fight to make right now, so lets make this happen!?

— Rory MacDonald (@rory_macdonald) May 25, 2018
Get your Official #TEAMCYBORG & #CYBORGNATION Gear & Merchendise here!