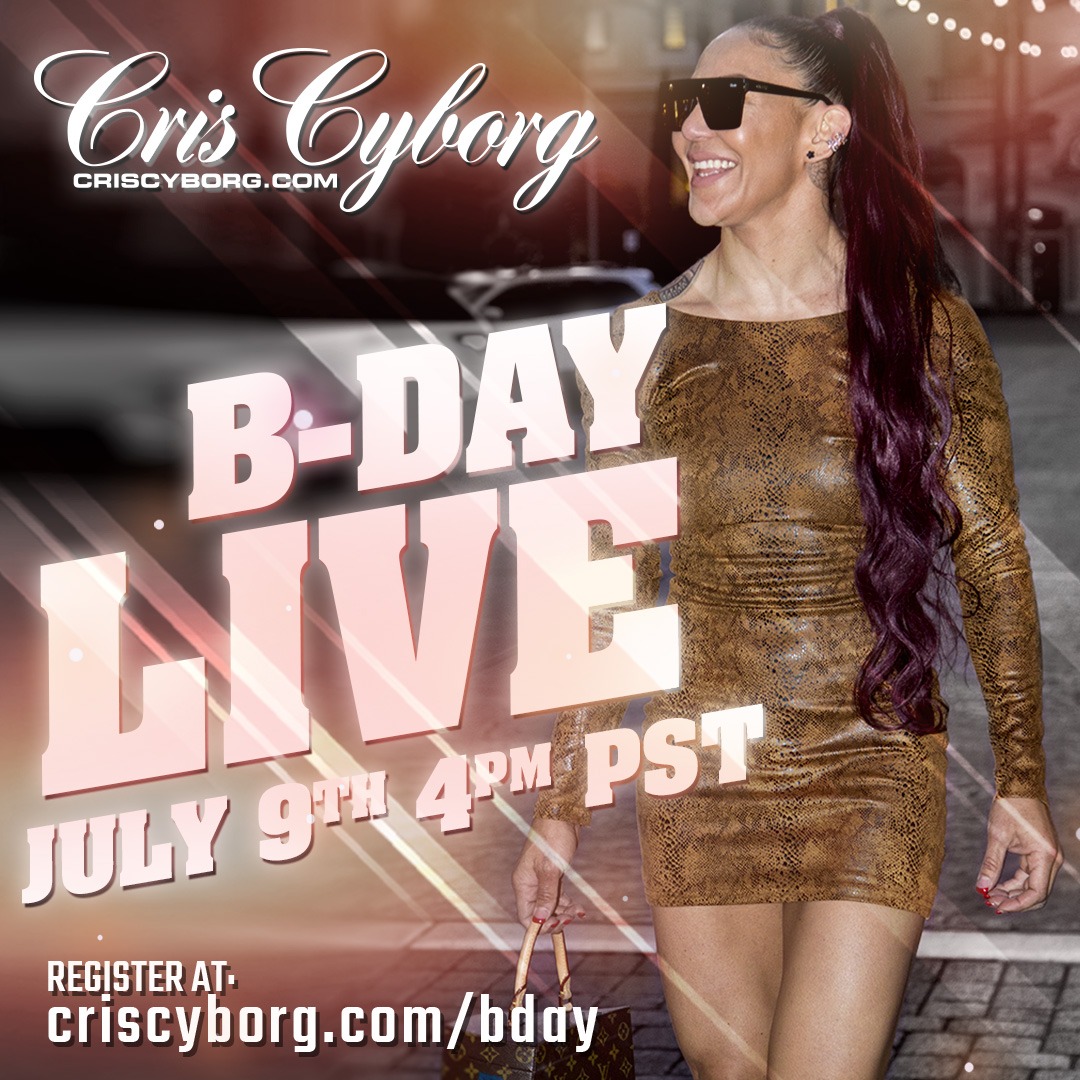 July 9th, 2021 MMA's only Grand Slam Champion will turn 36 years young by celebrating with the fans on Cyborg Nation with a 4pm PST Zoom Live party.  Cyborg who is the only fighter; Male or Female to win every World Championship in the sport of Mixed Martial Arts is a Brazilian Jiu Jitsu Black Belt and has captured the Bellator MMA, UFC, Invicta FC and Strikeforce Featherweight World Championships.  After an incredible 13 year unbeaten streak, the longest in the history of MMA by a female athlete, Cyborg suffered a shocking 1st round upset loss to Amanda Nunes before finishing her UFC contract with a victory over Felicia Spencer and signing with the Bellator MMA Promotion.  Now 4-0 since her defeat 3 years ago, Cyborg looks to have used the experience to improve and after an exciting 5th round KO over #4 ranked Bellator MMA fight Leslie Smith, Cris Cyborg looks to just be entering into her competitive prime as a fighter.
While Cyborg is legendary for the things she has accomplished inside the cage, many people feel the philanthropy she has done outside of the cage, working with her fanbase affectionately known as "Cyborg Nation" to create changes in many communities around the world.  From helping fundraise food and basic necessities in Brazil, to working with The Fight For The Forgotten foundation to bring water wells to communities in Uganda, Cyborg continues to look for opportunities to engage her fanbase and use the momentum to create lasting change in the communities we are living in, and that is what many fans consider to be her lasting legacy once she retires from the cage.
Fans who sign up for the Bday Live get to enjoy a small group chat with the MMA Legend where they can ask their own personal questions, share their own thoughts, or just get to hang out and spend sometime with the greatest female fighter of all time!
SIGN UP for the July 9th Birthday Live with Cris Cyborg HERE
Members of Cyborg Nation Online enjoy a weekly 'Technique Thursday' instructional taught by Cris Cyborg and covering basics of Self Defense, MMA, Conditioning, Nutrition, and more.  Members who register for a full year  will receive a customized 8×10 signed by the champ and sent directly to their house!