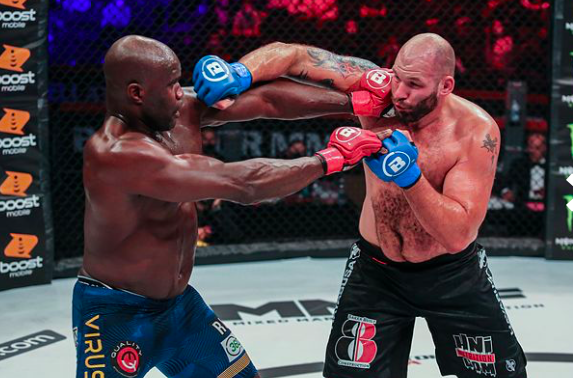 Bellator MMA is showing once again they are the leading Mixed Martial Arts promoter in Europe with another fantastic weekend of fights and a blockbuster back-to-back night of action to welcome MMA competition to Paris France.
Featuring MVP in the main event, Bellator 248 took place the night before EuroSeries 10 with Venom Page picking up a decision win over Ross Houston, the card also featured Mads Burnell picking up a win over Darko Banovic in his Bellator MMA debut.
Headlining the Bellator Euro Series was Cheick Kongo who lost a split decision in the Main Event as France welcomed MMA as Timothy Johnson picked up the victory. Also featured on the card was Saul Rogers who picked up a RNC victory over Arbi Mezhidov.
Bellator MMA returns Thursday Oct. 15th as Cris Cyborg returns in the main event of Bellator 249 against 2x world boxing champion Arlene Blencowe.  Fans can watch the prelims for Bellator 249 live on CrisCyborg.Com as the Main event will be broadcasted on CBS Sports Network. CH 221 on Direct TV, CH 158 on Dish Network.