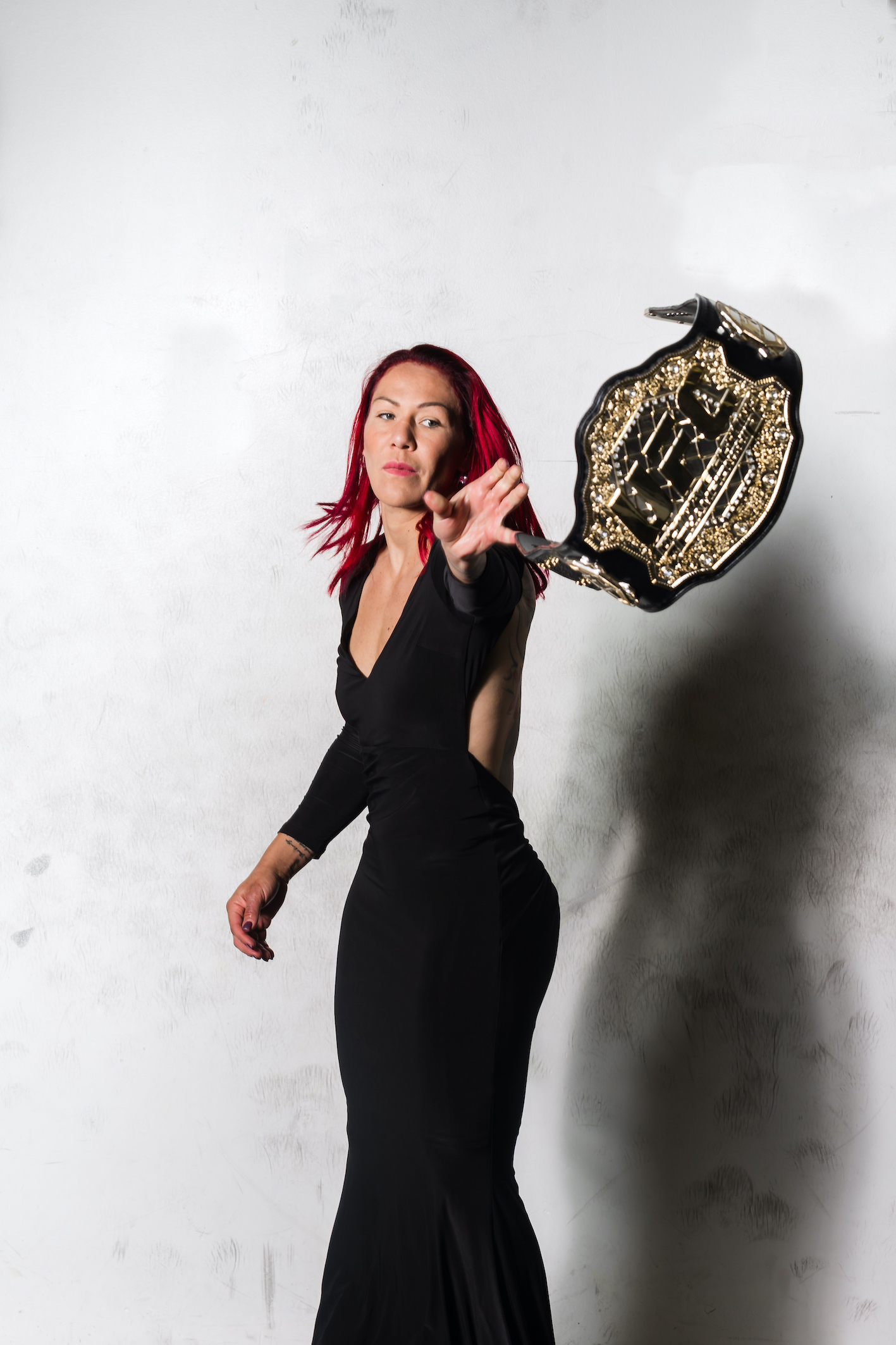 Cris Cyborg is the only fighter; Male or Female, to win EVERY Major World Championship in the sport of Mixed Martial Arts in their weight category.  Capturing the Strikeforce, Invicta, UFC, and Bellator MMA Featherweight World Championships, Cristiane Justino has accomplished something no other fighter; has been able to achieve.
Who has won (2) World Championships?
Sarah Kaufman- Invicta FC, Strikeforce
Carla Esparza- Invicta FC, UFC
Ronda Rousey- StrikeForce, UFC
Miesha Tate- StrikeForce, UFC
Eddie Alvarez- Bellator- UFC

Who has won (3) World Championships?
Cris Cyborg.
Who has won (4) World Championships?
Cris Cyborg- StrikeForce, Invicta, UFC, Bellator MMA.  While other athlete's like Ronda Rousey have been able to capture two World Championships from two different promoters, no other athlete like Cris Cyborg has been able to compete for 4 different promoters, 4 different matchmakers, 4 different set's of contenders and been world champion.  Cyborg will look to defend her MMA Grand Slam World Championship when she next steps into the cage with Bellator MMA.  Will we eventually see a rematch between Cris Cyborg and Amanda Nunes?  Nunes who competed alongside Cyborg in the Strikeforce and Invicta promotions never got an opportunity to compete for those world championships losing to contenders as she was improving her overall performances–Cyborg who rebounded from her shocking 1 minute upset defeat to Amanda Nunes by landing more strikes in a 3 round bout against Felicia Spencer than Nunes did during the course of her recent 5 round matchup with the Canadian Invicta FC Champion–following that record setting performance Cyborg defeated 8 year undefeated reigning world champion Julia Budd to win her Grand Slam Championship, and potentially setting up a Champion Vs Champion Bellator Vs UFC cross promotional event.