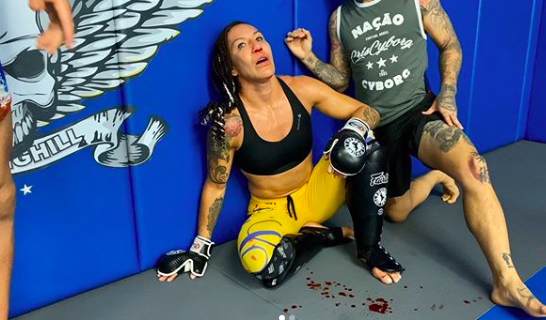 Cris Cyborg cemented herself in the history books of Mixed Martial Arts one more time Jan 25th when she beat Julia Budd to become the only Grand Slam Champion in the sport of MMA.  Having won the Strikeforce, Invicta, UFC, and Bellator Featherweight World Championships, Cris Cyborg has accomplished something no other fighter, male or female, has been able to accomplish, winning every major world championship in the sport that has her weight class of 145lbs.
Cyborg a long time fan favorite, spent almost a decade being undefeated until Amanda Nunes pulled off a major upset victory.  The UFC unwilling to make the rematch left Cyborg to sign with the most dominate Featherweight division as a member of Viacom owned Bellator MMA.
In the lead up to Jan 25th Cyborg spent the time training with African MMA legend Richie Quan in South Africa.  While wearing headgear, Cyborg suffered a small elbow in training which caused a clean fracture of her nose, all of which was captured on video in the lead up to her Cyborg Nation video series. Check out the savageness of Cris Cyborg who went on to defeat Julia Budd just a few weeks later via 4th round TKO.