Lots of rumors are going around about the new UFC TV deals, and the idea that there could be a few new weight classes introduced to the promotion.  With new weight classes it would create more belts giving fans an opportunity to see more matchups between champions and number one contenders competing for the belt.
With the recent focus on added weight classes coming to the Women's divisions and the promotion creating a 125lbs and 145lbs weight class for female fighters one has to wonder if the UFC is going to focus their attention on the male ranks when they introduce their next weight classes.  Currently there is a 15 pounds gap between 155lbs and 170lbs the light weight and welterweight divisions.  While Elite XC formerly had the 165lbs division, that weight class has been non existent in the UFC.
Recently UFC Star Diego Sanchez called for GSP and Conor McGregor to make the fight happen, posting on his Instagram

There seems to be a lot of interest in fighters wanting to compete in the 165lbs weight class, with even Chael Sonnen claiming that he predicts the UFC is going to do Conor McGregor Vs. GSP for a belt at 165lbs.
Prediction: GSP vs Conor at 165 lbs. pic.twitter.com/V7LGRkVUNp

— Chael Sonnen (@ChaelSonnen) March 8, 2018
What do you think? Do you believe we will see GSP return to the ring to face Conor McGregor? Do you think the UFC needs more weight divisions?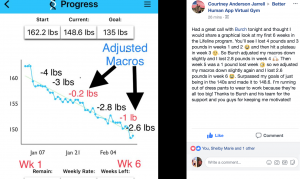 For a limited time, try to Eat To Win diet and nutrition plans developed by Cris Cyborg working with the Better Human App to bring flexible reliable eating to all of Cyborg Nation.  Get your Diet Plans HERE!