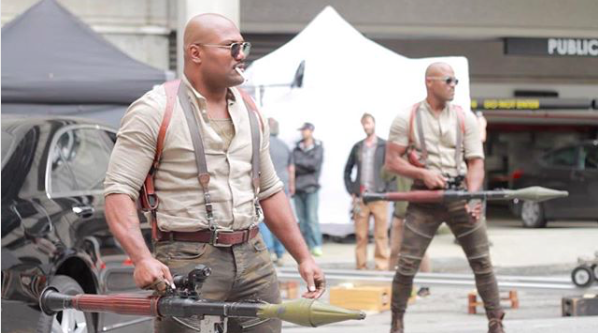 Rampage Jackson and Rashad Evans fought each other in 2010 back at UFC 114 in a bout that Rashad Evans would win via Decision after 3 rounds.  8 years has passed since that fight, and now the duo are back together, this time fighting on the same side, in the new Action Movie BOSS LEVEL
Rampage Jackson a former UFC Champion after becoming a legend in PRIDE FC with fights against Sakuraba, Igor Vovcahnchyn, Kevin Randleman, Murilo Bustamante, Chuck Liddell, Wanderlia Silva, Ricardo Arena, Murilo Rua, Matt Lindland, Marvin Eastman, Dan Henderson,Forrest Griffin, Keith Jardine, Lyoto Machida, Matt Hamill, Jon Jones, Ryan Bader, Glover Teixeira, King Mo, Fabio Maldonado, and Chael Sonnen RAMPAGE Jackson has fought a who's who list of athletes.
Evans who will be fighting Anthony Smith at UFC Chicago has a career list of names as well facing Daniel Kelly, Glover Teixeira, Ryan Bader, Chael Sonnen, Dan Henderson< Antonio Rogerio Nogueira, Jon Jones, Phil Davis, Tito Ortiz, Forrest Griffin, Chuck Liddell, Michael Bisping, Stephan Bonnar, and Jason Lambert during his career.
The movie directed by Joe Carnahan stars Frank Grillo and will feature Rampage and Rashad Evans. Look for Boss Level in theaters late next year.