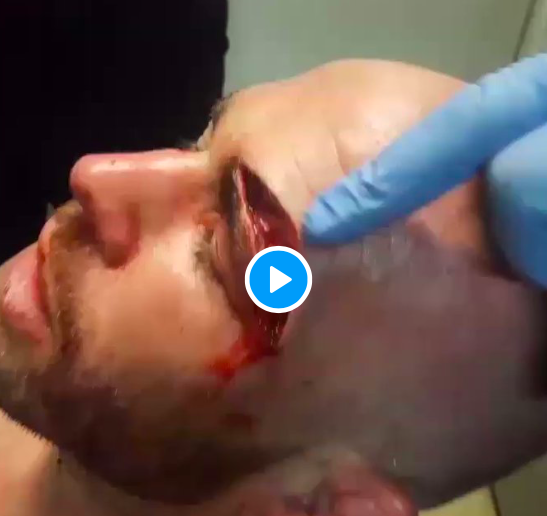 Wow! Not since the narly cut Marvin Eastman received in the UFC have we seen something like this!  Warning this video is graphic even for the most hardcore of fight fans!  This weekend as Cage Warriors returned to Scandinavia for the first time since 2014, Jack Mason was set to fight Hakon Foss
The bout which went down in Gothenburg Sweden resulted in a nasty cut, which went viral over social media.  After a knee landed the blood started to flow which forced the fight to be stopped.  Cage Warriors is the leading fight promotion in Europe currently with many UFC Stars, including Conor McGregor having gotten their starts with the promotion.
Jack Mason is one of the original veterans of the UK fight scene having had more than 50 professional fights with an overall record of 29 1ins, 17 losses and 1 draw.  While never in the UFC he has fought for leading promotions such as Bellator, Cage Rage, Ultimate Challenge MMA, Venator FC, and Cage Warriors.
Warning this is up there with some of the worst cuts iv seen in mma my friend @JackStoneMason tonight @CageWarriors #CW93 #MMA pic.twitter.com/Xk1LW2DxrD

— John Maguire (@MaguireTheOne) April 28, 2018