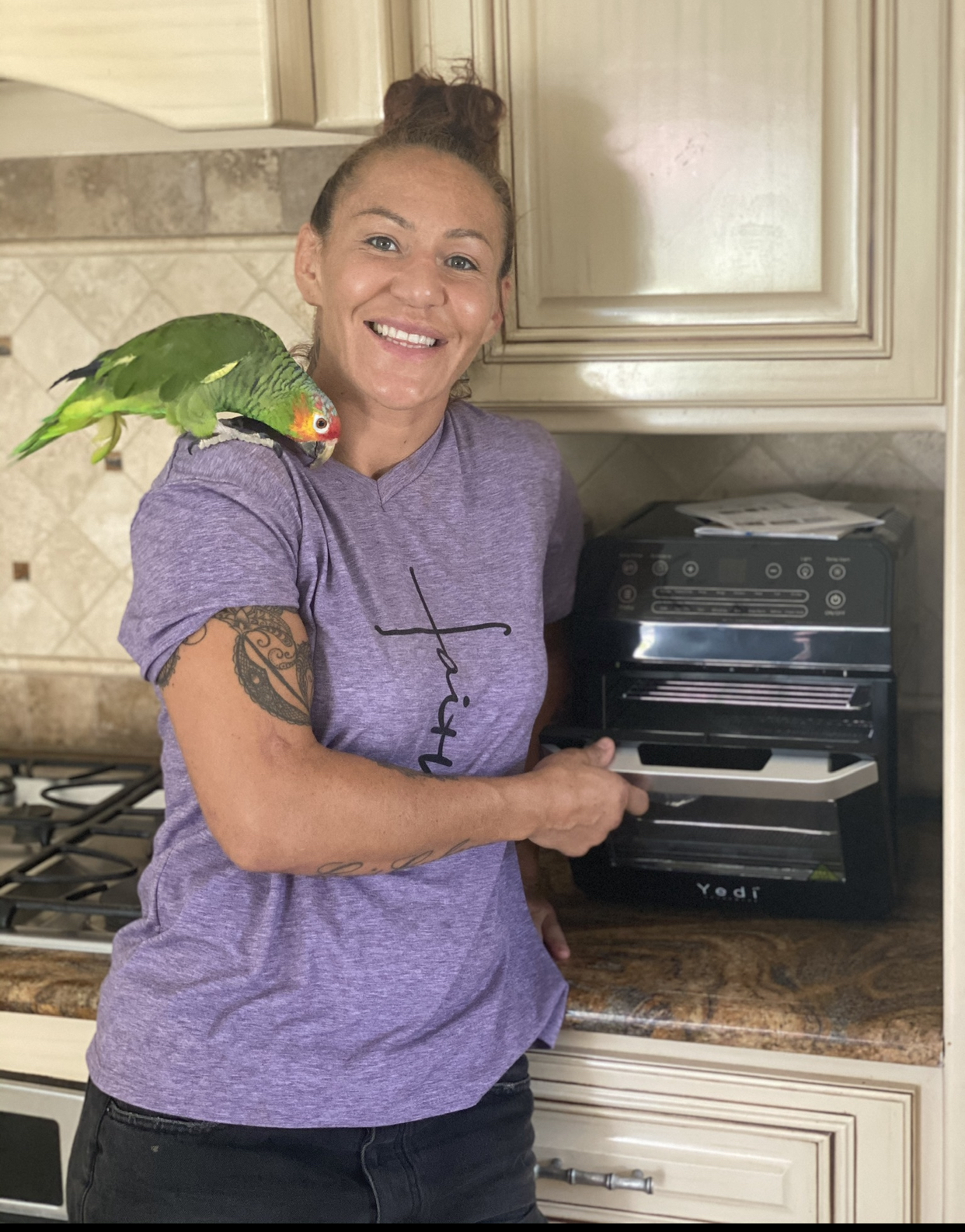 If you are on Cyborg Nation…Then you KNOW Cyborg loves her Chicken Wings.  3 weeks out from her debut on CBS Sports Network though, Cyborg isn't able to enjoy the fried chicken wings she usually treats herself to.  Looking for an alternative to deep fried chicken, Cyborg recently tried the Yedi Total Package Air Fryer, which is great for making many things–including Chicken Wings, Rotisserie meats, vegetables and more.
The perfect healthy food prep is great for Cyborg as she is in training camp for her fight against Arlene Blencowe, and with less than 85% of the fat frying of traditional deep frying methods–she is still able to enjoy the textured crunch of fried food with little to no oil.  FDA Certified, PFOA Free- and BPA Free, Cyborg is able to make her favorite tenderloins, kababs, and roast recipes in little to no time at all.
Using the dehydrator Cyborg has already prepared dried mangos, and other treats listed in the Yedi cookbook, which includes Vegan and Keto recipes! Currently on sell, Cyborg gives the Yedi Air Fryer a 10 out 10 when ratings convenience, taste, and safety.  To get your own Air Fryer, Click Here.
Set your DVR now to record #CyborgVsBlencowe THURSDAY NIGHT Oct. 15th with Bellator MMA live on CBS Sports Network.  Bellator 249 will take place at the Mohegan Sun Casino in Connecticut and will feature Cris Justino in the main event in a super fight of Australia's Arlene Blencowe a 2x World Boxing Champion who has won her last 3 fights in a row and is the #1 contender for Bellator MMA.