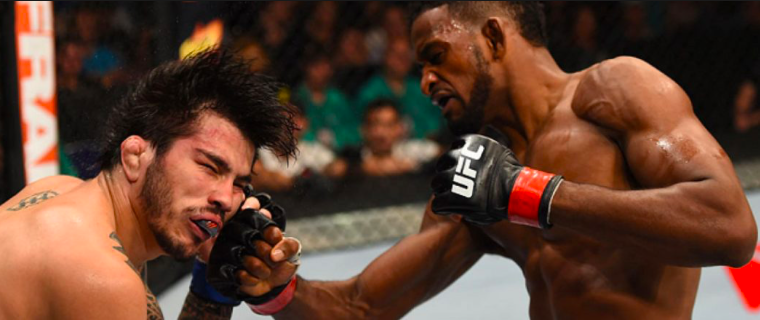 Niel Magny is one of the top rated fighters in the Welterweight division, and has been close to a title shot a few times.  Immediately following his impressive win at UFC Liverpool against late replacement Craig White who accepted the fight on short notice, Magny used the spotlight (and the microphone) to call out Kamaru Usman, the current undefeated prospect who defeated Demian Maia at UFC Chile.
Speaking to UFC commentator Dan Hardy inside the cage after his win, Magny said "Kamaru Sean you've been calling me out for two years It's Time for me to beat that ass, baby!"  Once out of the cage, Magny took a few minutes to address the call out saying,"This is one of the things that makes me a good fighter – I'm able to adapt to things as they come," Magny said. "He's shown a lot of things in the past, and obviously wrestling being his strong suit, I'm not afraid of where the fight goes. If he wants to keep it standing, I can find a way to beat him standing. If he wants to wrestle, I'll find a way to beat him wrestling. If it goes to the ground, I'll find a way to find a submission or reverse it and I'm on top, and then finish the fight. I'm not afraid to go anywhere this fight is going to potentially take me, and that's what excites me about it."
Magny now 21-6 overall is only 30 years old and has won 3 out of 4 with his only defeat coming by way of Arm Triangle to UFC Interim Champion contender Rafael Dos Anjos who will be facing Colby Covington at UFC 225 in Chicago for the UFC welterweight Interim title.  Current champion Tyron Woodley is expected to return as early as June for the UFC.