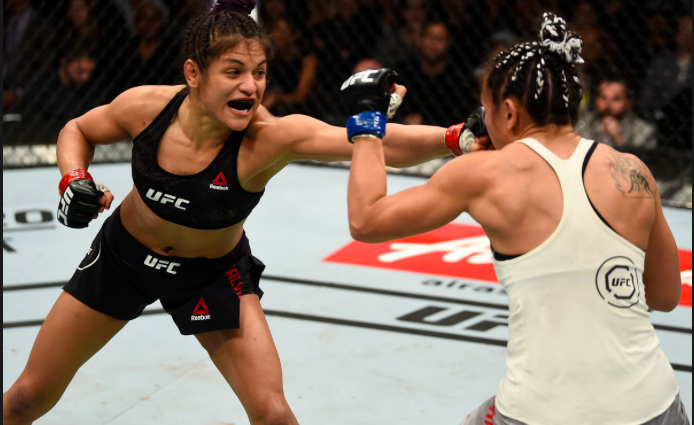 Cynthia Calvillo last fought at UFC 219 the same night that Cris Cyborg defeated 17 time world champion boxerHolly Holm from the JacksonWinkMMA Gym in New Mexico.  Winning her first 3 fights after signing to the UFC, Cynthia lost a close decision to former UFC Champion Carla Esparza suffering her first loss in professional MMA.
Following the loss to Carla Esparza Cynthia tested positive for Marijuana, and was suspended by USADA for six months, with an option at a reduction after a few substance abuse classes.  After USADA handed down their judgement the Nevada State Athletic Commission then came down with a 9 month suspension of their own, which seemed a bit strict for a first time offense.
Cynthia Calvillo has been relatively quiet since the news of her failed marijuana test, however she finally replied on her social media, and the entire internet is in love with her Dave Chappelle answer!
What do you think Cyborg Nation? Do you think a fighter should be able to be suspended for 9 months for Marijuana use? Do you feel like it is a PERFORMANCE ENHANCING DRUG? Leave your answers below in the comments!

If you are looking to start off the summer right, get started with my functional meal and diet plans.  Working together with the creators of the Better Human App we have developed an easy and convenient shopping list and meal plan that will help you reach your micro and macro intake needs.  To get your hands on the plans, click here!