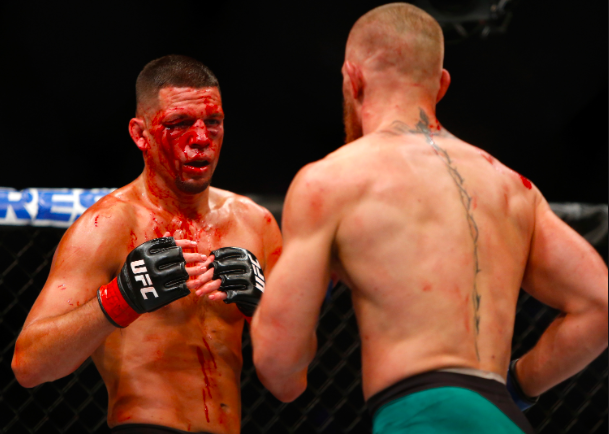 It appears that a Nate Diaz return to the UFC could be in the near future, at least if he can get a fight secured that interests him. Diaz who hasn't fought since losing a split decision to Conor McGregor in 2016 is one of the biggest stars within the sport of MMA.
Rumors recently broke, and then Dana White confirmed sources that the UFC was attempting to put GSP against Nate Diaz in the first fight at 155lbs for George St. Pierre with the winner possibly facing a Conor McGregor return fight down the road.  GSP who infamously fought Nick Diaz in Canada would be a big PPV return for Nate, however Nate didn't appear all that interested in the matchup.
When asked by MMA JUNKIE about fighting George St Pierre Nate Diaz had this to say,"No, I'm not fighting that fight."
Like I said, [on facebook] he cheated when he fought my brother [in 2013], so I just had to bring up old shit because they're trying to brush it off like it's nothing," he added. "I got other shit to do, and it was just weird because we never even really talked about [that fight]."
"There was a fight I asked them for, and now that that fell through, we're back to square one," he said.
"I've been trying to get in there and get going," he said. "I've been wanting to get in there and get going this year. I just got this lawsuit out of the way that I've been going through for the last two years, so I wasn't even able to fight. So that's all done and over, and I'm ready to get back to fighting if I'm going to be fighting anymore."
"I'm training until there's something good to do here."