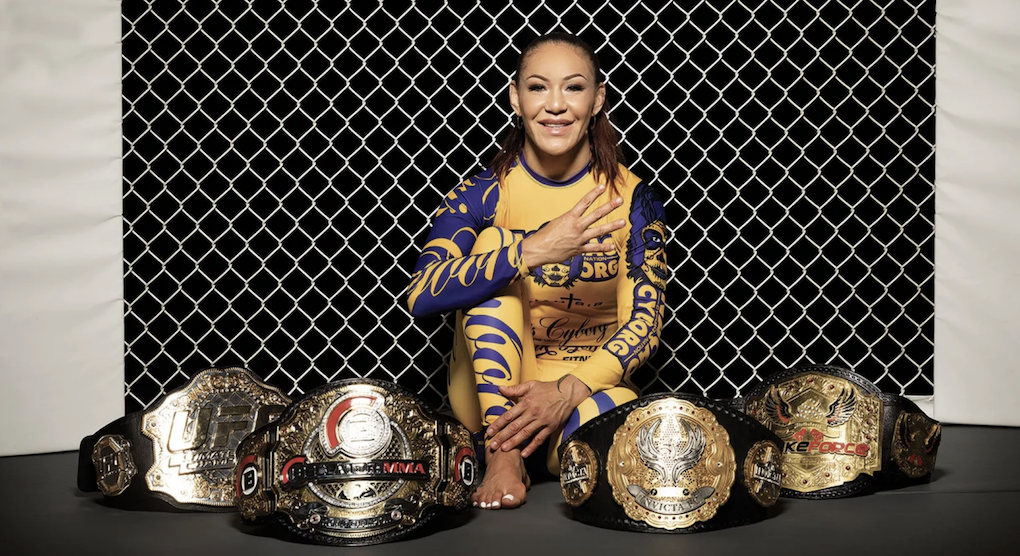 Cris Cyborg is one of the biggest names in all of combat sports.  Regardless of Men or Women competing in Boxing or MMA the Grand Slam Champion Cris Cyborg has proven herself over the course of her 18 year career as one of the most dominate athletes in all of combat sports.  Winning every professional belt in the sport of Mixed Martial Arts, Cris Cyborg has also showcased her Brazilian Jiu Jitsu abilities by winning two world championships in the Gi as well as her Nogi abilities with a Bronze medal at the prestigious ADCC Submission Grappling Tournament.  Undefeated as a Professional Boxer in 2023, Champion Cris Cyborg will return to the Bellator MMA Cage against #1 contender and current undefeated Bellator MMA fighter Cat Zingano who owns previous victories over UFC Champions Amanda Nunes and Miesha Tate.
The Houston Based Custom Trends Magazine recently flew to Orange County California to interview Cris Cyborg inside of her private training facility in Huntington Beach as part of an interview series ahead of the Champions San Diego MMA return oct. 7th.  The magazine which is a Luxury Magazine & Television feature which showcases Global Red Carpets, Cars, Fashion, Sports, and Nightlife with exclusive access.  The September issue featuring Cyborg on the cover is dedicated to celbrating the powerful women in sports and also features Cynthia Rothrock, Gloria Lopez, Whitney Jones, Theresa Ivancik, Latonya Story, Michelle Manu, and Aksana Grishing.   The feature also showcases the recent Dubai VIE Fashion Week and the Fitness Expo held in the USA, Anaheim CA.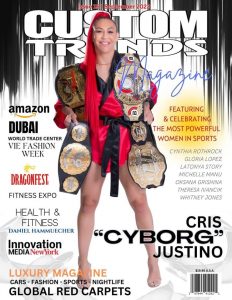 Copies of Custom Trends Magazine are available on AMAZON and through select distribution partners.  Fans who are interested in watching Cris Cyborg fight as the Co Main event of Bellator 300 can still get tickets to see her fight Cat Zingano in San Diego California Oct .7th at the Pachanga Sports Arena.  Cyborg who has won Championships Belts with Bellator MMA, UFC, Invicta FC, and Strikeforce will be looking for her 16th Career victory during a World Championship fight, something no other female fighter has ever been done.