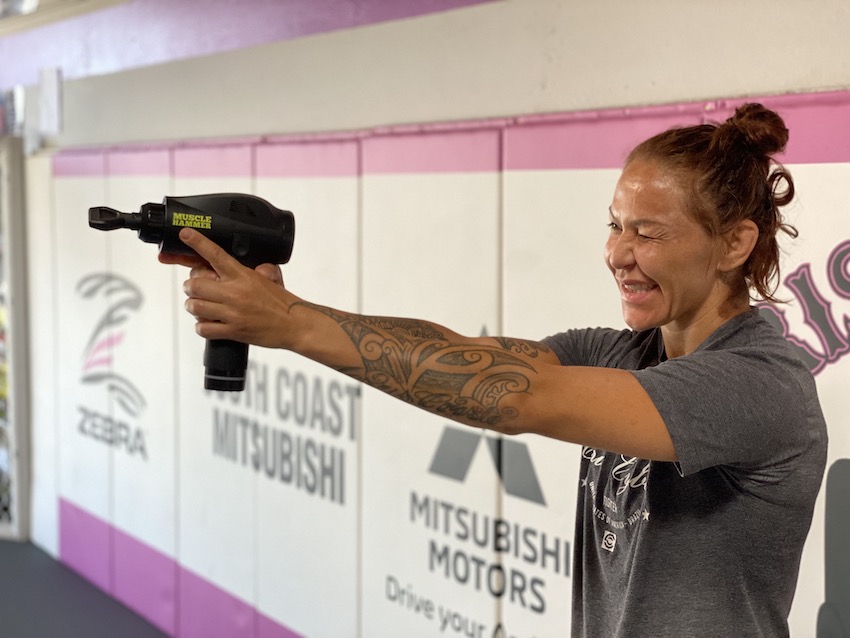 My team recently brought me a new Percussive device to use as a tool for helping with injury prevention, rehab, and overall body mechanics.  The company is called Muscle Hammer and they are a product made in the USA–actually not far from my gym in Southern California.  They currently are endorsed by former UFC champion Carla Esparza, BJJ NoGi world Champion Nathalie Ribeiro, and other Combat Sports Athletes from all over.
I have used massage guns in the past, however my one complaint has always been the noise and volume of sound they create when being used.  Most of the time when I am suffering from aches and pains from training, it is late night, when I am trying to sleep and let my body recover.  Massage Guns in the past have been too loud for me to use at 2, 3, 4am when the rest of my house is still asleep.  The first thing I appreciated about the Muscle Hammer was the quiet sound, it also has 6 different speeds allowing you to pick exactly how fast and how much force you require.  The full kit came with 5 different massage heads that are interchangeable as adaptors giving you the opportunity to reach even the hardest spots and came with a carry case making it easy to put inside any gym bag.
At only 300$ and with Free Shipping in the USA the Muscle Hammer Classic is a must have for anyone looking for relief from serious training, injury recovery, or just improved body function.  The Muscle Hammer is almost half the price when compared to some of the other options on the market, and features more luxuries with the interchangeable massage heads and the ability to adjust speed and strength of massage.  Anyone on Cyborg Nation looking to purchase a massage gun can head over to Muscle Hammer with the confidence knowing that I absolutely love mine!