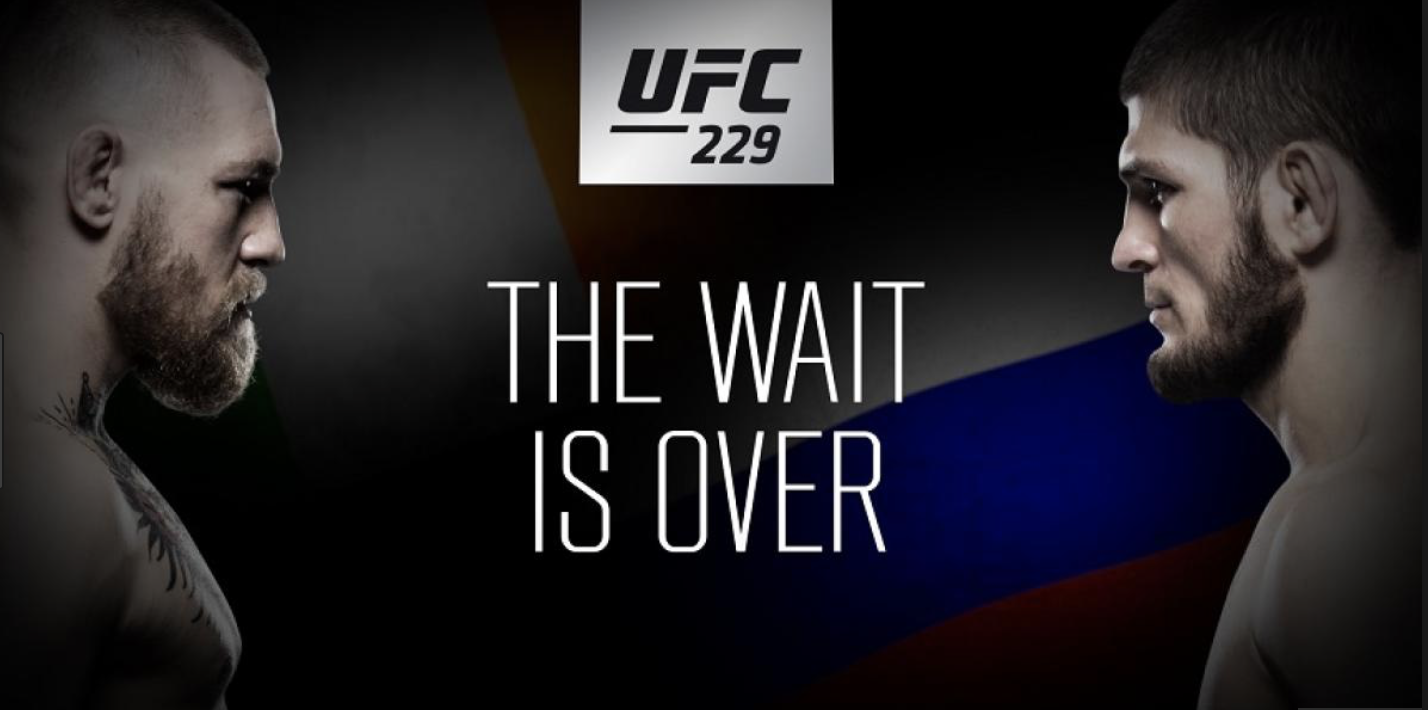 Sponsored post:
UFC 229: Three Main Card Predictions
The return of Conor McGregor to the octagon has been a long-awaited affair. On October 6th at the T-Mobile Arena in Las Vegas, Nevada, we get a UFC double-header that showcases McGregor's attempt to get the lightweight belt back from his rival Khabib Nurmagomedov, as well as Tony Ferguson —who would be next in line to fight either Khabib or McGregor— against Anthony Pettis. The main card is stacked so if you are a fight fan who is planning on placing any action on the matches, be sure to compare sportsbooks with this 5Dimes review. Here is the line-up for the PPV portion of the UFC 229
 Khabib Nurmagomedov vs. Conor McGregor
 Tony Ferguson vs. Anthony Pettis

 

 Ovince Saint Preux vs. Dominick Reyes
 Derrick Lewis vs. Alexander Volkov
 Michelle Waterson vs. Felice Herrig
 Sean O'Malley vs. Jose Quinonez
 Now let's have a look at the top three fights on UFC 229 card.
Ovince Saint Preux vs. Dominick Reyes
McGregor, Nurmagomedov, Ferguson, and Pettis are on the card, but OSP and the Devastator will be a battle that we won't want to miss. Dominick Reyes is coming in as a -210 favorite against Ovince Saint Pruex.
The 205-pounders have a lot in common, weight, height; both are southpaws … but that's where the similarities stop. OSP has three distinct advantages over Reyes: strength, reach, and experience.  But Dominick Reyes is faster and more athletic. Reyes lands almost seven punches per minute to OSPs 2.69, and he is shiftier, absorbing one punch less per minute on average. 
The Devastator also has a higher submission average, and on paper, better takedown defense. But a lot of that has to do with sample size. Reyes has 9 fights vs. OSP's 33. And speaking of experience, Reyes needs to try to put OSP away quickly. The Devastator's average fight time is just 2:21, while OSP averages 9:28. OSP is used to going the distance and has much more experience. Reyes is talented and favored for a good reason, but it is doubtful that he is going to be able to win in the first round, and after that, he is in OSPs world.
Prediction: Ovince Saint Preux
Tony Ferguson vs. Anthony Pettis 
Both guys are complete fighters. Pettis with his blend of Mui Thai, Taekwondo, and Brazilian Jui-Jitsu and Ferguson with his Wrestling, Jui-Jitsu, and Boxing. Ferguson and Pettis are both Jui-Jitsu black belts, so they match up well on the ground. It's on their feet where this fight will be won. Despite Pettis' 3rd degree black belt in Taekwondo, Ferguson very well could be too much for Anthony Pettis. Ferguson sets an unbelievable pace and gets in his opponent's face the entire fight, boxing from the inside and throwing awkward angled elbows.
 If Pettis can keep his range on Ferguson and fight from outside, he has a chance to win this fight. But likely, Tony Ferguson will take away the effectiveness of kicks be staying inside. The first round should be even. But rounds two and three, we'll see Ferguson ear down Pettis with the pace he sets. This really should be a five-round fight. The shorter distance, three-round bout gives Pettis a better shot at winning and this is going to be a monster of a battle, but Ferguson is the -300 favorite for a reason.
Prediction: Tony Ferguson
Khabib Nurmagomedov vs. Conor McGregor
The main event pits arguably the best striker to grace the ring vs. the best grappler. Not only will we see the grudge settled, the infamous bus incident adds to the story line and the upcoming press conference is sure to bring some early fireworks that will create a buzz heading into the fight. but we'll get to see a clash of styles that is guaranteed to be wildly entertaining. 
This fight marks the first time that Conor McGregor is stepping into the octagon as an underdog. Granted, it's close, with Nurmagomedov as just a -160 favorite. The short of it is this. If Conor McGregor wants to win this fight, he can't go down to the ground. He has to use fantastic footwork to dance away from and around Khabib and keep himself in a defendable position. Takedown defense will be key here for McGregor. If he can keep the fight standing for long enough, that monstrous left hand will find its mark, especially with the way Nurmagomedov likes to drop his hands and hang his head.
On the flip-side of the coin, if Khabib can take McGregor down, it's pretty much over. Even if he doesn't finish immediately, will Conor have the same fighting spirit throughout takedown after takedown and getting manhandled on the mat? This is anyone's fight; one big left hand could end it or one big power slam to ground-and-pound could finish it.
Prediction: Pick 'em