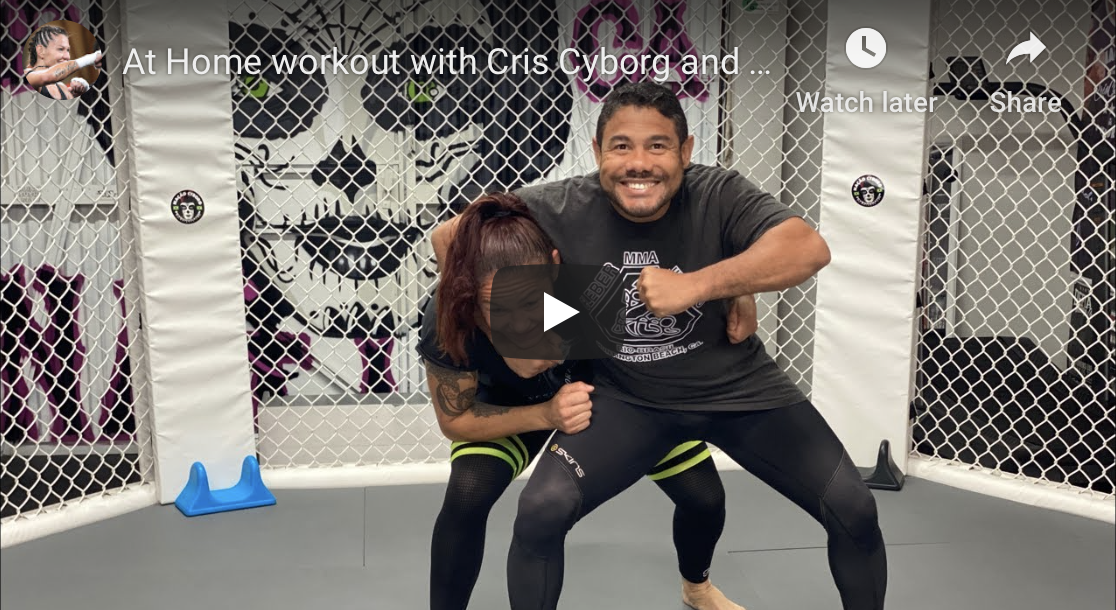 Working in partnership with the #AloneTogether Stay at home social campaign which is currently being promoted by Viacom CBS and Bellator MMA, Grand Slam Champion Cris Cyborg has been conducting a stay at home bootcamp, Quarantine style training session.  The camp started with an initial 8 lessons which was done consecutively over the initial 15 day quarantine time suggested by the government.  Following those 15 days however, Cris Cyborg's daughter still has not returned back to school on site–electing instead to take online courses.
As the Quarantine has been extended, so too have the workouts, however they are now only being held on Thursdays at 10AM.  Every workout is immediately uploaded after the live stream onto Youtube, and available for replay for individuals looking to add the training routine into their own stay at home programs.  No weights, training partners are required, and it is suggested that if you have any injuries you substitute in your own exercises into the HIIT style training mythology.
Classes ran by Cris Cyborg usually feature her daughter, however with her heading to online school, the time of 10am PST conflicted with one of her initial back to school classes.  With a substitute Cyborg is joined by 5th degree Brazilian Jiu Jitsu Black Belt Cleber Luciano for the WOD at home training exercise.  The program is for losing weight, improving cardio, transforming fat into muscle, and using functional body weight exercises without the need of additional equipment.  Be sure to Subscribe to Cris CYBORG'S YOUTUBE Channel for all the videos.