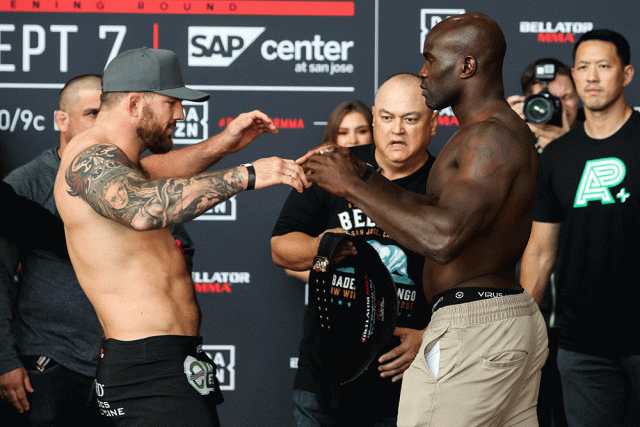 Bellator has been bringing their events to all over the world and it is now going to bring it to France where Ryan bader is going to be fighting Cheick Kongo on May 6th. This event is going to be full of great fights since we are going to be having Yoel Romero vs. Melvin Manhoef, Lorenz Larkin vs. Anthony Adams, Soren Bak vs. Saul Rogers, Yves Landu vs. Gavin Hughes, Pedro Carvalho vs. Piotr Niedzielski, Mike Shipman vs. Gregory Babene and many more fights. The main event is going to be Bader vs. Kongo and it is going to be full of surprises since they are both heavyweights, high level fighters, and they both have some heavy hands that could knock each other out at any moment of the fight.

If you don't know who the champ is, Ryan DuWayne Bader is an American mixed martial fighter who is currently signed to Bellator MMA where he is the current Bellator Heavyweight Champion, the former Bellator Light Heavyweight Champion, and he was also the winner of the 2018 Bellator Heavyweight World Grand Prix. He has a record of 29-7 and has fought some beasts like Jon Jones, Tito Ortiz, Antonio Rogerio Nogueira, Lyoto Machida, Phil Davis,  Anthony Johnson, Valentin Moldvsky, Fedor Emilianenko and Corey Anderson before who are all well-known fighters in the fighting world and all have a huge in the fighting world among fans. He is curently 38 years old and was born in Tempe, Arizona
And his opponent Cheick Guillaume Ouedraogo, who is also known as just Cheick Kongo, is a French heavyweight MMA fighter and is also a former kickboxer who fights in Bellator MMA. He has been a  professional MMA fighter since 2001, he has also fought for the Ultimate Fighting Championship. He has a record of 31-11-2 and has also had many tough fights before like Cain Velasquez, Frank Mir, Matt Mitrione, Eric Smith and many more fighters in the division of multiple different events before. He is currently 46 years old and was born in Paris, France.
If you are interested in watching these fights make sure to follow Bellator on their socials to know what is going to be happening in the event and to know more about the other upcoming events.