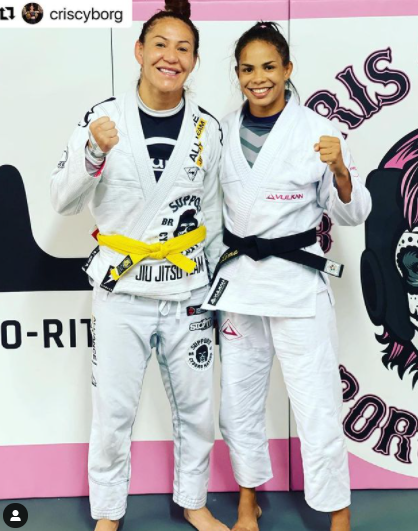 This Sunday July 25th 2021 Cris Cyborg filmed different judo techniches with Olympic Brazilian team member Dione Barbosa in her private facility in Huntington Beach, California for the weekly Technique Thurdays that are here at on the website for all of the people who sign up and become a premium membership member. Cris Cyborg is a world MMA champion, today fighting in Bellator. Cris Cyborg has 4 different belts including  a Bellator, UFC, Invicta and Strikeforce belt.  Cyborg was born in Curitba, Brazil and now lives in Huntington Beach, California. Cris started to get involved in sports when she was around 15, she started with Handball and one day a MMA coach from a well known gym in Brazil named Chute Boxe saw her training  and asked her to participate in one of the practices, she did and ended up falling in love with it. Cris Cyborg has a passion for animals and is the owner of Two dogs, a Bengal cat, a mini pig,  a Maine Coon and multiple Fish & Birds at Cyborg's zoo. 
Brazilian Olympic Star Dione Barbosa is considered one of the top combat sports prospects from South America and has captured a 3-1 professional MMA record after a short undefeated amateur career.  She is best known  as one of the top emerging new talents, Dione Barbosa currently holds the rank of Brazilian Jiu Jitsu Brown Belt under Damien Maia and will spend her time in the USA training under Master Rafael Cordeiro at the King's MMA academy in the USA as she prepares for her Debut in America.
If you are looking to lose weight, learn self defense, possibly compete -one day, or are wanting to better understand the sport of MMA then Cris's Technique Thursday videos are for you. You can learn weekly skills/drills from Brazilian Jiu Jitsu,Wrestling, Muay Thai, Kickboxing, Boxing, Judo, Fitness, Conditioning and more – from mixed martial arts only Grand Slam Champion Cris Cyborg as she shares with us some of her favorite and most used beginner techniques. The Technique Thursday videos are exclusively to members of her Cyborg Nation.