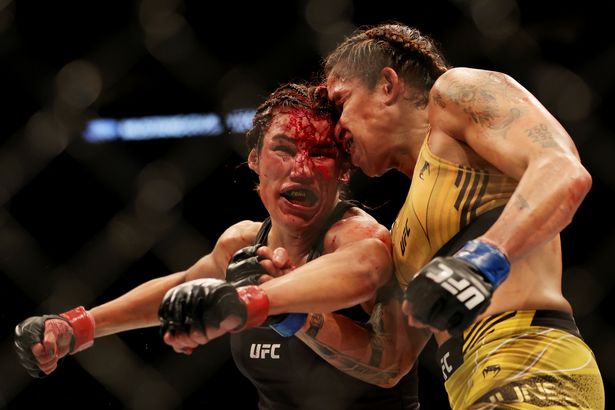 The fight of Amanda "Lioness" Nunes happened against Julianna "The Venezuelan Vixen" Pena. Amanda Lourenço Nunes is a Brazilian MMA fighter. She currently fights in the Ultimate Fighting Championship (UFC), where she is the reigning champion of the women's Bantamweight and Featherweight division. She has fought many great fighters before like Cris Cyborg, Holly Holm, Miesha Tate, Valentina Shevchenko, Raquel Pennington, and many more fighters. She has a record of 22-4 and is 33 years old. She was born in Salvador, Bahia, Brazil. Her opponent Julianna Nicole Peña is an American MMA fighter who also fights in the bantamweight in the Ultimate Fighting Championship (UFC). She is the first woman to win The Ultimate Fighter. She lost her title this weekend after facing the lioness. She has a record of 11-5 and has also fought huge fighters before like Jessica Eye, Valentina Shevchenko, Sara McMann, Nicco Montana and the list goes on. "The Venezuelan Vixen" is currently 32 years old she is from Spokane, Washington, United States. 

This fight was the rematch after Amanda lost to Pena on UFC 269, this rematch is going to be happened on Saturday in Texas. Another fight that also happened this weekend and was the fight of the night was the fight of Brandon Moreno vs. Kai Kara-France.
The fighter Brandon Carrillo Moreno is a Mexican professional MMA fighter who is in the flyweight division of the UFC, where he is the reigning UFC Flyweight Champion, and in the process became the first Mexican-born fighter to win a UFC championship. Figueiredo is also going to be happening. And his opponent, Deiveson Alcântara Figueiredo is a Brazilian MMA fighter. He is a former UFC Flyweight Champion. As of January 22, he is the new champion of the Flyweight division, again. 
Make sure to stay tuned in the website to know more about the fight world and new fights that are coming up. Also make sure to follow the fighters that are on the event and us that share the news with you  everyday in the website.If you want to know more about the grand slam champion Cris Cyborg and her next fights follow her on Instagram, Facebook, Tiktok, her Youtube channel and other social media as well.