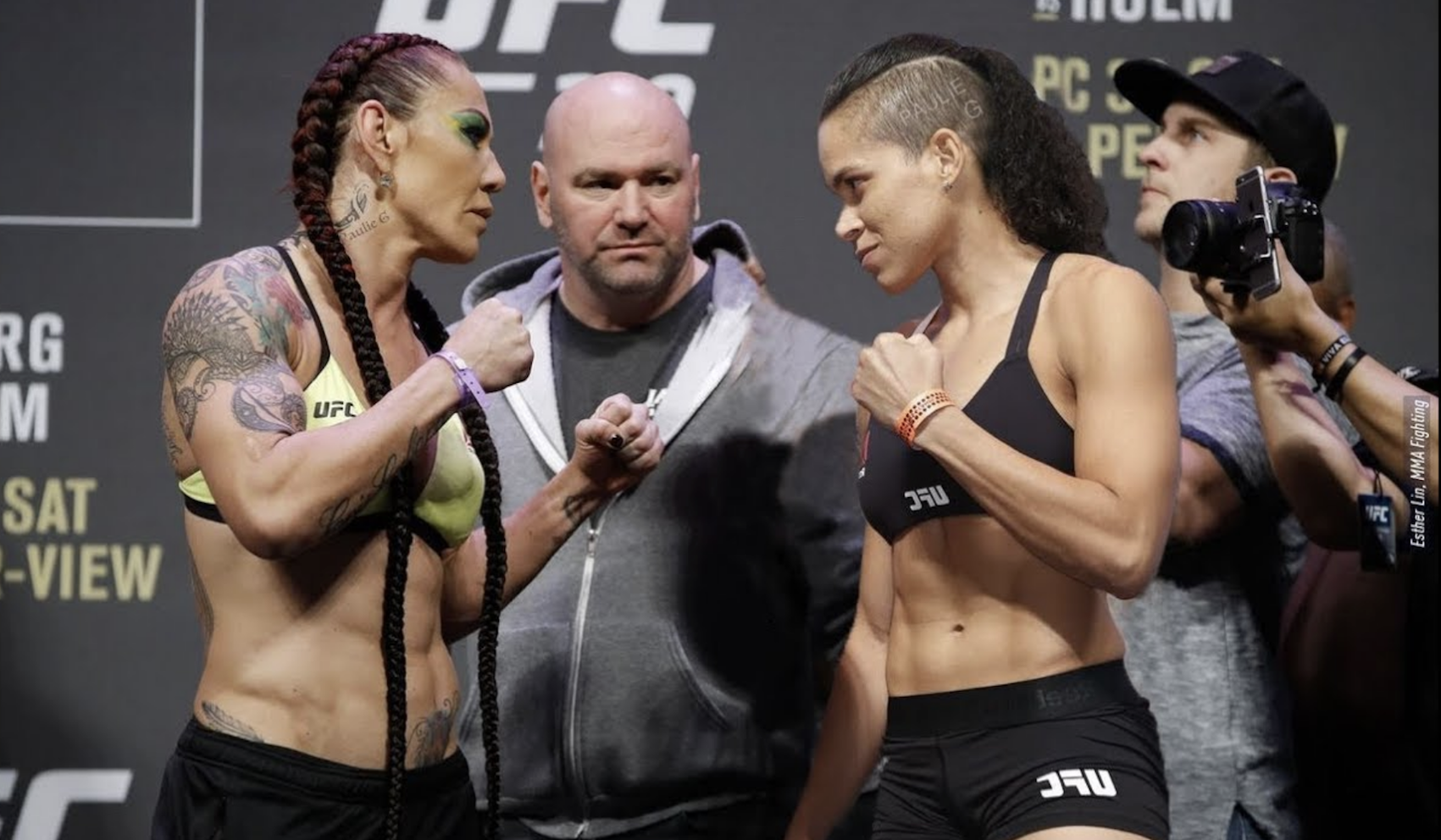 It wasn't that long ago that Amanda Nunes and her team where telling anyone that would listen that they wanted a fight against Cris Cyborg.  Cyborg who has been undefeated the past 13 years in MMA even helped as event matchmaker calling for Nunes following her victory over Holly Holm Dec. 30th at UFC 219.
While Cyborg originally called out Nunes for a UFC 226 fight in Las Vegas, difficulties securing that fight immediately after the Holly Holm win, led to Cyborg accepting a last minute fight against Yana Kunitskaya at UFC 222.  Following her victory at UFC 222 Cyborg again grabbed the microphone and said, "When you call Cyborg out, you have to handle it," however now Nunes announces she will not be fighting Cris Cyborg and will instead face Raquel Pennington on May 12th in RIO instead of facing Cyborg
 Nunes, explained to Ariel Helwani
MMA Fighting
. "I didn't even know if I was gonna fight soon. I was concerned with waiting years because I've been in that position before, waiting so long for a fight, I don't want to do it again and stay waiting, waiting, waiting.
"But now, we have Rocky [Pennington] and we have the Brazilian, Ketlen [Vieira] and I feel like my division is starting to grow. If you pay attention, the division's gonna be awesome and now I have two. I have Rocky and I have Ketlen. Rocky is my next step and I want to see Ketlen after, for sure."
Following Cyborg's fight at UFC 222 Ketlen Viera who won against Cat Zingano on the same night has been asking for a fight against Amanda Nunes
"I think she's deserving, after this fight against Rocky," said Nunes. "She beat the girl that beat me. I think she's ready and I'm excited to fight her."
"There's gonna be a lot of things involved in that," said Nunes. "Having the contract for her, for me, it has to make sense for both of us so we can do this. It's nothing personal against Cyborg. When you become a professional fighter, you want to become the best, you want to beat the best.
"It's nothing personal but I feel like there's a lot of things involved in that and I don't want to wait for that. I want to keep fighting, I don't want to wait to negotiate. Right now my division has a new contender and I'm excited for that. Whatever happens after that, we'll see."
Fans on Cyborg Nation who where expecting to see Amanda Nunes Vs. Cris Cyborg in Las Vegas for International Fight Week should might need to put pressure on Nunes who appears content to use Cyborg's name to build her own brand.  Cyborg who initially gave Nunes a competition date 6 months in advance has stated that if Nunes does not fight in July, she will face the next available contender at 145lbs who many fans believe to be Megan Anderson at this time.

If you are looking to start off the summer right, get started with my functional meal and diet plans.  Working together with the creators of the Better Human App we have developed an easy and convenient shopping list and meal plan that will help you reach your micro and macro intake needs.  To get your hands on the plans, click here!