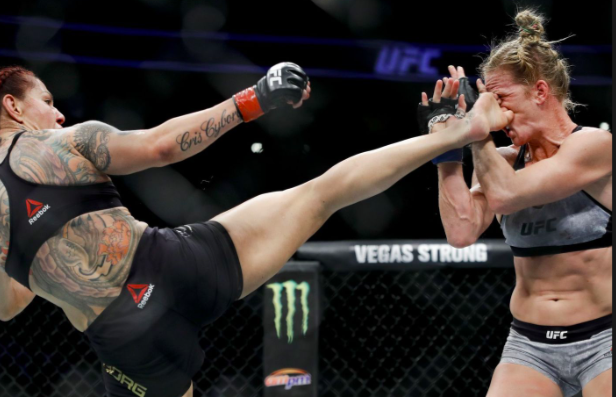 After beating Holly Holm New Years weekend in Las Vegas, Cris took to her social media and spoke to her management to let everyone know that she wanted Amanda Nunes next, and she wanted the fight at UFC 226 in Las Vegas as part of International Fight Week.
Unfortunately Cyborg accepted a last minute fight to help save UFC 222 PPV when Max Holloway was injured and forced out of his main event fight against Frankie Edgar, and Amanda Nunes turned down the opportunity to face Cyborg in Las Vegas in favor of a matchup against Raquel Pennington at UFC 224 in Rio.  While both fighters won their fights, Amanda Nunes suffered a foot injury and was given a 6 month medical suspension following her performance by the Athletic commission.
With No Amanda Nunes available for UFC 226, Cyborg's next logical opponent Megan Anderson was booked to face Holly Holm at UFC 225.  Holm who is the #1 contender at Bantamweight for Amanda Nunes, is 1-4 overall in her last 5 fights and lost a 5 round decision to Cyborg in December which wasn't nearly as competitive as the score cards reflected. Anderson who became undisputed Invicta FC Champion when Cyborg was forced to vacate the title after two successful super fights at 140lbs, was originally scheduled to fight Cyborg at UFC 214, however due to speculated visa issues Anderson was forced out of that bout and sidelined for over a year without competing.
Cyborg speaking to Ariel Helwani on The MMA Hour, took a second to reflect on the outcome, and let everyone know that she is "Okay with the plan", going on to say "I was supposed to fight Megan Anderson before Holly, you know? I think I wasn't going to say anything but me and Megan were supposed to fight before, she was the No. 1 contender in my division, and I fight for my division, and I fight all the girls at 135 the UFC gave me. And the only girl the UFC has at 145, they give to Holly. I really don't care anymore about this, I just want to fight whoever is going to win."
With Amanda Nunes sidelined with a 6 month medial suspension, and no updates on her medical needs, Cyborg told Ariel; "I don't want to wait! I want to fight and I think this fight Megan Anderson and Holly, they're already making plans for me and Holly rematch. Because they just took [Alistair] Overeem off the pay-per-view, put him on the preliminaries, and they put Megan Anderson and Holly, the first fight on the PPV with Megan. And I think Dana White wants to get prepared for me and Holly to have a rematch. I'm not going to wait for Amanda from her injury, I'd like to fight who's going to win the next fight of Holly and Megan, and then it can be the last fight on my contract with Amanda. She can take all the time she needs."