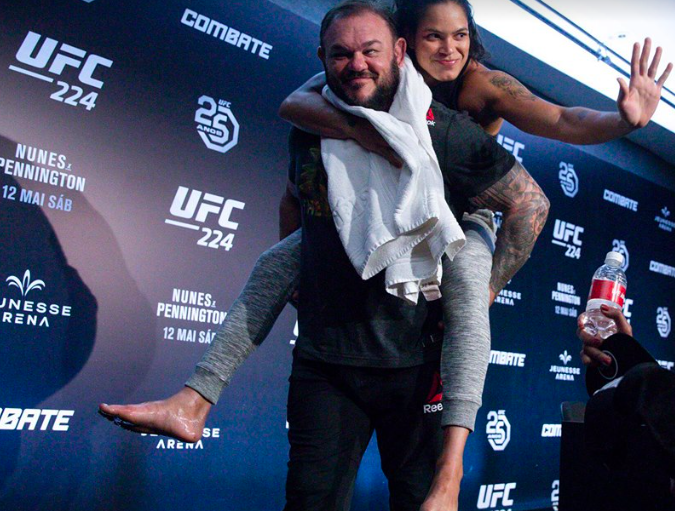 news that UFC 224 was the lowest selling PPV for the UFC in the past decade, wasn't the only disappointing news from the event.  It now appears as if fans hoping to see Cris Cyborg V Amanda Nunes at the UFC 226 date that was targeted by Cyborg since her Dec. 30th victory over Holly Holm is no longer an option.
Cyborg who accepted a fight for UFC 222 against Yana Kunitskaya after Amanda Nunes turned down the fight, hoped to face Amanda Nunes July  7th during International Fight Week, promoting the event date since her Dec. 30th victory over Holly Holm.  Nunes who chose to fight at UFC 224 against Raquel Pennington instead of accepting the July fight with Cyborg has now been given a 6 month medical suspension due to an injury she sustained at UFC 224.
Cyborg had a similar scenario last year when Germaine De Randamie was sidelined for several months with a hand injury before the UFC finally moved on with booking Cyborg against another opponent.  Hopefully the UFC will be pro-active and fly Amanda Nunes to Las Vegas for medical treatment and an injury update.  Moving forward, Cyborg has said that if Amanda Nunes is injured and unable to fight July 7th at UFC 226 that she will face the winner of Megan Anderson V Holly Holm and allow Nunes time she needs for a recovery willing to accept the matchup next year when Nunes is healthy.
full suspension list
Amanda Nunes: Suspended 180 days, requires x-ray of right foot; if cleared then 30 days no contest, 21 days no contact
Ronaldo Souza: Suspended 180 days, requires x-ray of right foot; if cleared then 45 days no contest, 30 days no contact
Raquel Pennington: Suspended 60 days no contest, 45 days no contact pending clearance from maxillofacial surgeon
Brian Kelleher: Suspended 60 days no contest, 45 days no contact
Vitor Belfort: Suspended 60 days no contest, 45 days no contact
Sean Strickland: Suspended 60 days no contest, 45 days no contact
Sultan Aliev: Suspended 60 days no contest, 45 days no contact pending clearance from maxillofacial surgeon
Thales Leites: Suspended 45 days no contest, 30 days no contact
Alberto Mina: Suspended 45 days no contest, 30 days no contact
Kelvin Gastelum: Suspended 30 days no contest, 21 days no contact
Aleksei Oleinik: Suspended 30 days no contest, 21 days no contact
Mackenzie Dern: Suspended 14 days no contest, 7 days no contact
Amanda Cooper: Suspended 14 days no contest, 7 days no contact
John Lineker: Suspended 14 days no contest, 7 days no contact
Lyoto Machida: Suspended 14 days no contest, 7 days no contact
Cezar Ferreira: Suspended 14 days no contest, 7 days no contact
Karl Roberson: Suspended 14 days no contest, 7 days no contact
Junior Albini: Suspended 14 days no contest, 7 days no contact
Davi Ramos: Suspended 14 days no contest, 7 days no contact
Nick Hein: Suspended 14 days no contest, 7 days no contact
Elizeu Zaleski dos Santos: Suspended 14 days no contest, 7 days no contact
Warley Alves: Suspended 14 days no contest, 7 days no contact
Jack Hermansson: Suspended 14 days no contest, 7 days no contact
Ramazan Emeev: Suspended 14 days no contest, 7 days no contact
Markus Perez: Suspended 14 days no contest, 7 days no contact
James Bochnovic : Suspended 14 days no contest, 7 days no contact