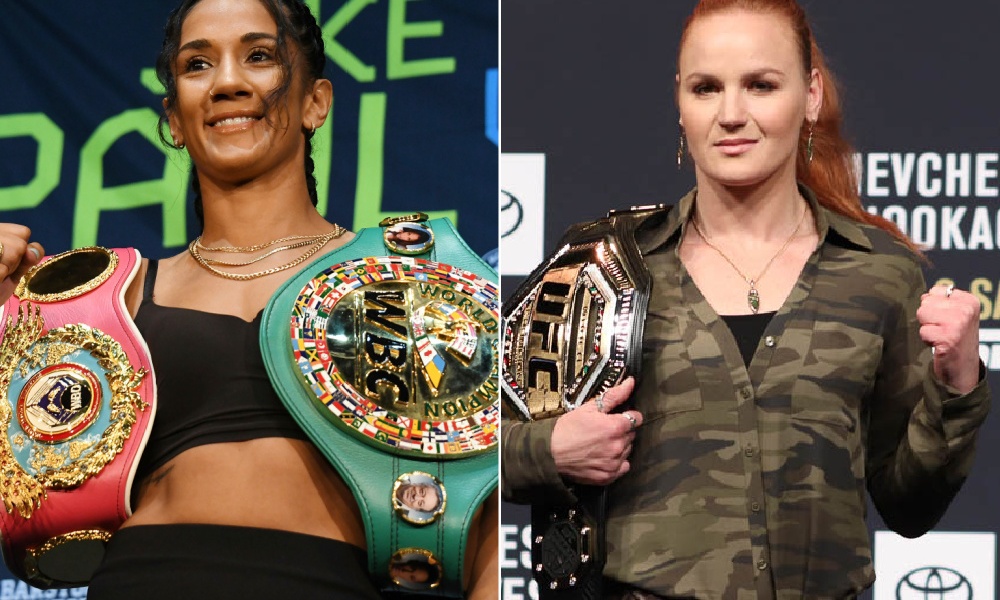 Ifyou don't know who Amanda Serrano is, here is a little background info about her! Serrano is a Puerto Rican professional boxer, MMA fighter, and professional wrestler. As a boxer, she is the unified featherweight world champion, having held the WBO title since 2019; the WBC title since February 2021; and the IBO title since March 2021. She is currently 33 years old and was born in Carolina, Puerto Rico. She has a record of 42-1-1 and has fought many really good girls before like Yamileth Mercado, Daniela Romina Bermudez, Dahianna Santana, Heather Hardy, and the list goes on. She was the co-main event and she fought against Miriam Gutierrez.

Miriam Gutiérrez Parra is a Spanish professional boxer who has held the WBA interim female lightweight title since 2019. As of September 2020, she is ranked as the world's fifth-best active female lightweight by The Ring. She has a record of 14-2 and has fought many great girls in boxing like Aleksandra Ivanovic, Katie Taylor, Karen Batiz, Bianka Majlath, and many ore girls too, however, she was not able to beat Amanda Serrano in their last fight due to Serrano's experience and skills. 

She has been challenging a well-known Ultimate Fighting Championship fighter lately, Valentina Shevchenko. She is a Kyrgyzstani-Peruvian professional mixed martial artist and former Muay Thai fighter. She competes in the women's Flyweight division for the Ultimate Fighting Championship, where she is currently the  UFC Women's Flyweight Champion. She has a record of 22-3 She has won 8 fights by KO and has fought some really tough girls as well like Amanda Nunes, Joanna Jedrezejzyk, Jessica Eye, Jennifer Maia, Jessica Andrade, Lauren Murphy, and many more girls too. 
Some people think that Valentina would definitely be able to beat Serrano in an MMA match, however maybe not do so well in a boxing match since she has so much experience in the sport and so much technique and skill level. Even though Valentina has a really good MMA game and boxing she does not have that much experience in only boxing like Amanda Serrano does. Make sure to stay tuned to know if this match is ever going to be happening.