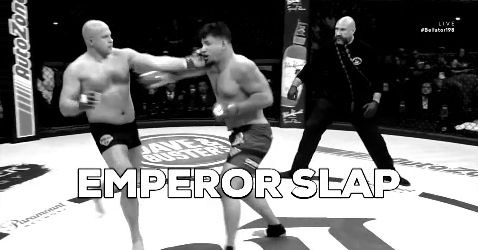 Nick and Nate Diaz first coined the usage of the 'Stockton Slap' inside the UFC Cage, making it an infamous open handed strike where they slap the face of their opponent.  Wether it is done in violence or done to taunt, the Stockton Slap has become one of the fan favorites when it is done inside the cage.
To the surprise of many, we saw who many consider THE GOAT, Greatest of All Time- Fedor Emelinanenko us the infamous slap as a tool against the charging Frank Mir.  Mir a former UFC World Champion transitioned to Bellator giving fans a chance to see Fedor fight another former UFC Champion.
It took Fedor all of 48 seconds to KO Frank Mir, who initially rocked Fedor on the feet before being taken down with a hip toss that lead to a scramble back to their feet.  Once on the feet again Mir tried to remain aggressive only to receive a Stockton Slap for his efforts and an uppercut that put the lights out giving Fedor the first round victory.
https://youtu.be/Nq8zTHhamtE