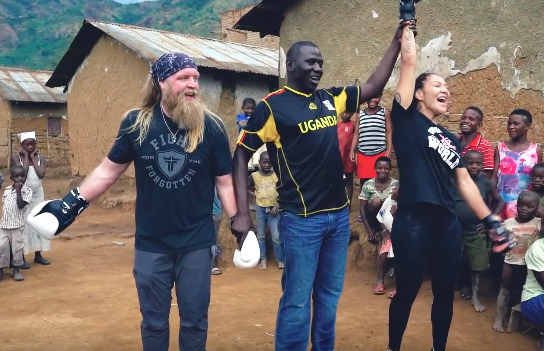 Yesterday we released the Season Finale of Cyborg Nation Destination Africa where UFC Superstar Cris Cyborg joins Justin Wren and his team at Fight For The Forgotten to help supply water on the new Batwa Pygmy land which is part of the food, water, and land initiatives FFTF is supporting with local leaders within the community.
Cyborg Nation Destination has been a digital hit, with the 7 episodes receiving over a million views with huge engagement over the course of the 7 episode series produced by The world's leading self Massage Tool Pos-Rite, America's premium CBD Supplier Extract Labs, and Orange County's most trusted Car dealer SouthCoastMitsubishi.  Filmed and edited by Joey Granath the reality series follows Cyborg through a series of humanitarian acts, culture experiences, and training as she prepares for an upcoming fight in either Canada or Russia.
A 3x MMA Champion cyborg is the only professional MMA fighter to capture the 3 major world titles in their respective weight division with her securing Gold in the UFC, Strikeforce, and Invicta FC.  With 90% of her career wins coming by way of Ko or TKO many people would consider that to be Cyborg's lasting legacy, however fans on Cyborg Nation know it is her commitment to community change and activism that will be her greatest impact.