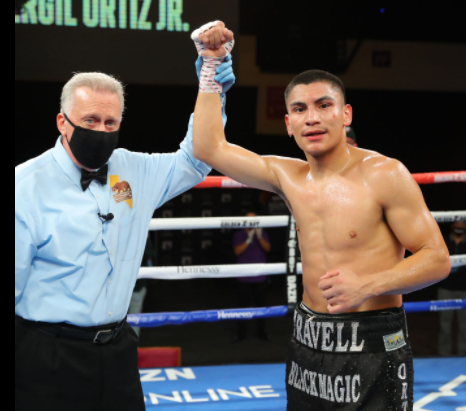 Cris Cyborg  Brazilian grandslam champion supports pro boxing fighter Vergil Ortiz Jr as he makes his way toward his fight August 14th in Frisco, Texas at the Ford Center at The Star. On the saturday the 14th, Ortiz will be fighting Egidijus Kavaliauskas, he is a Lithuanian professional boxer who fought for the WBO welterweight belt in 2019. At provincial level, he defended the WBC-NABF welterweight belt from 2017 to 2019 and the WBO Inter-Continental welterweight title in 2018. He is 33 years old and was born July 19th, 1988.
Vergil Ortiz Jr. is a Mexiacan American professional fighter. He has kept the WBO International welterweight title since 2021. As a begginer, he was a seven-time national champion and  he was also the winner at the 2013 Junior Olympics. He was named 2019 The Ring magazine Prospect of the Year. Vergil is going to be facing Egidijus Kavaliauskas in Frisco, Texas at The Ford Center at The Star. Vergil is 23 years old and was born March 25, 1988. He started boxing with his dad Vergil Ortiz Sr. since he was a young child and now he is still with his dad training at the champion Robert Garcia's gym.
Cris Cyborg is the one and only Granslam Champion of the world which means that she has four different belts from four different foundations one from Invicta, one from Strikeforce, one from the UFC and her lst one from Bellator. Cris Cyborg is now fighting at Bellator, one of the biggest MMA events in the world she is curently the champion in her division known as Featherweight. Cris Cyborg was born in the south of Brazil in a city named Curitiba where she lived until she was 19, and at 19 she made her way to California to get the train and preparation that she needed to be the campion that she is today. Cyborg is also involved in different projects and loves to help people that needed. Cyborg has a women fitness camp called PinkBelt Fitness, where only women are allowed to participate in where they have different fitness activities including Brazilian Jiu Jitsu, Muay Thai, Wrestling, Dance classes and more.