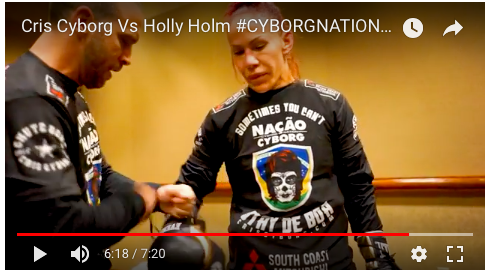 Are you ready for Saturday nights UFC 219 PPV?  Check out episode 2 of Cyborg Nation UFC219, as we get a chance to see all the behind the scenes craziness that is Fight Week in Las Vegas New Years weekend.
In episode 1 we got an opportunity to witness some of the final rounds of sparring that Cyborg had in preparation for Holly Holm and her arrival into Las Vegas.
Episode 2 is going to show us more of the behind the scenes happenings that bring fans everything they see during the UFC 219 PPV.
If you haven't purchased your PPV for Saturday night, remember you can now watch UFC 219 directly on your Phone or Smart tablet!! To order UFC 219 directly to your phone
For the Afterparty if you do not want to pay the NEW YEAR WEEKEND IN VEGAS PRICE at the door, you have to complete the guest list form, in the comment section be sure to put "Cyborg Nation" COMPLETE THE FORM ONLINE BEFORE DEC 29th for FREE ENTRANCE into the MGM Grand's amazing FOUNDATION ROOM.