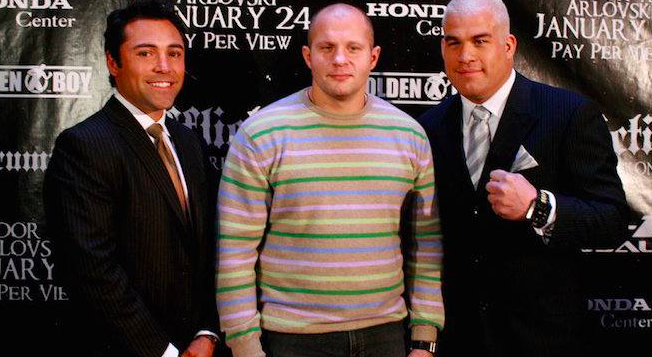 If you know anything about Chael Sonnen, you know that he LOVES TO TALK! The perennial trash talker before their was a Conor McGregor, Sonnen earned the nickname "The American Gangster" because of his toughness, and his fearless trash talk.
Sonnen who has fought a list of who's-who's is coming off a win over Quentin Rampage Jackson, and is arguably the most popular UFC star to have left the organization and headed to the Bellator MMA promotion as a Free Agent. Sonnen while having lost to Tito Ortiz has had an otherwise perfect run with the promotion.
Now fans know that Fedor will fight Chael Sonnen next, and it didn't take long for the trash talking Sonnen to get started–with the words flying the minute he stepped into the cage.
Chael Sonnen inside the cage, "I think the only thing I hate more than being right here in Chicago is being in this ring with you,"Sonnen stated directing his insults towards Fedor. "And I assure you the next time I am, it will not be for long!"
it appears at least for now however that the no emotion Fedor Emelianenko isn't too concerned,
Fedor Post Fight press Conference,"To tell you the truth, I believe that Chael is a good person, because when we meet each other in some place or in the hotel, we actually communicate in a very good and friendly manner, In public, definitely, his behavior is challening. I think that's the way he attracts extra attention to his fights and his performances. Because I know him from an absolutely different side."