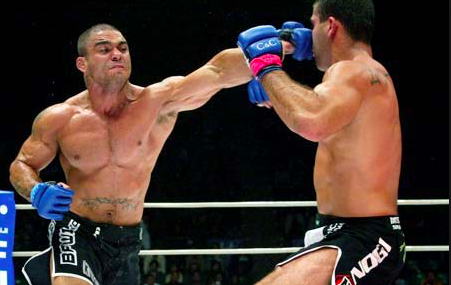 Paulo Filho made a successful return to MMA June 11th in Kuwait when he defeated Mohamed Ashraf at Adel Wawan's WAWAN MMA event.  Filho who was largely considered the #2 best middleweight in the world behind Anderson Silva when he was on his 16 fight win streak during the years from 2000-2007.
Starting his career a perfect 16-0 Filho beat legends like Chael Sonnen, Joe Doerksen, Kazuo Misaki, Ryo Chonan, Murilo Rua, Ryuta Sakurai, Amar Suloev, Akira Shoji, Daijiro Matsui, Yuki Kondo, and Ikuhisa Minowa before losing a decision rematch to Chael Sonnen at WEC 36 after previously defeating Chael Sonnen by way of armor at WEC 31.
Now 39 years old, Paulo hasn't fought since a 2014 decision loss to rising Brazilian prospect Andre Muniz. The former WEC Champion almost lost his career when he was shot in the leg at a party in 2014, an injury that left a fracture in his femur exposed and threatened his ability to use his legs permanently.
While Filho would go on to defeat Melvin Manhoef at DREAM 10 in Japan, he admitted that a substance abuse problem derailed his career and after going 16-0 he had gone 7-6-3 before his return win in Kuwait. It is not known if Paulo Filho will continue pursuing a return to prize fighting or if this was his retirement bout.