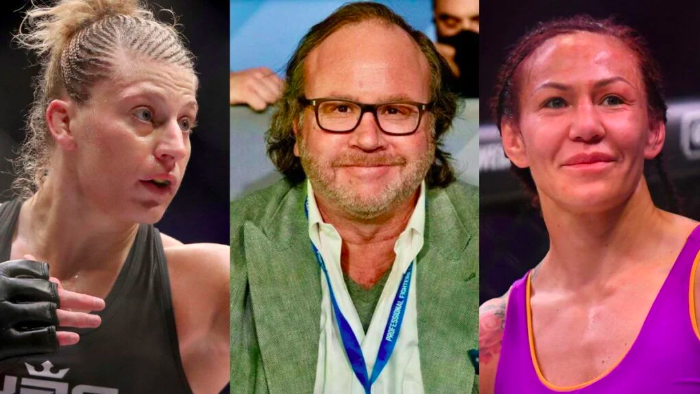 Cris Cyborg has been the #1 Pound for Pound female fighter in Mixed Martial Arts for over a decade.  After a historic 14 year unbeaten streak, Cyborg has again established herself as the top draw in the sport of Mixed Martial Arts after going undefeated in her past 5 fights and becoming the Bellator MMA Featherweight Champion establishing herself as the sport of MMA's only Grand Slam Champion.
Establishing herself as a 2 sport Combat Athlete with her recent performance inside the Boxing Ring where she captured the FMS SuperWelterweight Championship belt, Cyborg will again be looking to challenge herself in the boxing ring as she competes on the Dec. 10th Terence Crawford boxing event on BLKPrime.
Harrison who has faced far less notable talent was able to start her career 15-0 until she faced Larissa Pachecho in the finals of her last PFL Lightweight Tournament where she suffered her first defeat to the ex UFC athlete.  Following the performance, Kayla's promoter Donn Davis took to Twitter not to speak of a rematch with Pachecho but hoping to entice Cris Cyborg into a blockbuster matchup that would give the PFL momentum for fundraising their next season.
OFFER STANDS@KaylaH v @criscyborg

$1M each fighter + $2M winner

Additional "tip" … winner choice Rolls-Royce

Biggest cash purse in history for female MMA fight

No more hiding … decide the best inside the cage … @PFLMMA PPV Super Fight.#KaylaCyborg

— Donn Davis (@DonnDavisPFL) November 29, 2022
Cyborg who responded with an '80/20′ demand knows that she is the A side of any future matchup against Kayla Harrison, and already the highest paid female fighter in the sport, Cyborg did not seem to motivated by the 'Guaranteed million dollars' as she noted that his offer isn't the highest guaranteed purse she has earned in her career.
Will we see Cyborg Vs. Harrison next or will PFL give Harrison a chance to avenge her loss to Larissa Pachecho?  Fans will have to wait to find out as Cyborg is next scheduled to step inside the ring Dec. 10th in Omaha Nebraska and has suggested a matchup against #1 Contender Cat Zingano in Bellator could be next.