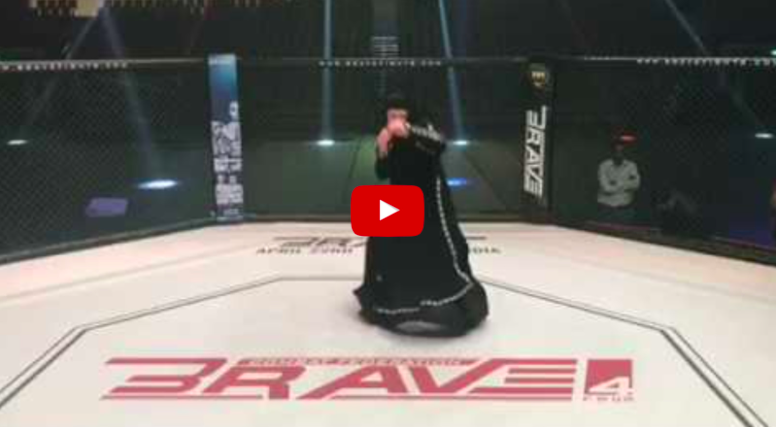 Brave Combat Federation 11 took place Friday, April 13th in Belo Horizonte, capital of Minas Gerais, in Brazil. The event was headlined by an interim lightweight title fight between Luan "Miau" Santiago x Lucas "Mineiro" Martins.
Bave CF is quickly establishing itself not only as one of the major promoters in the Middle East, but throughout the world- having already held events in Brazil, Jordan, Bahrain, Mexico, Kazakhstan, India, and th UAE.  The event is promoted patronage of HH Sheikh Khalid Bin Hamad Al Khalifa.
Fans on Cyborg Nation will remember Cyborg Showing her support for this event by attending the Abu Dhabi promotion wearing traditional burka and shadowboxing in the cage to show support for women athletes in the region wanting to pursue mixed martial arts.
-Lucas "Mineiro" Martins defeated Luan "Miau" Santiago by TKO (Injury, Round 5, 4:56)
-Klidson de Abreu defeated Matt Baker by Submission (Round 1, 3:03)
-Erivan Pereira defeated Gesias "JZ" Cavalcante by TKO (Round 2, 2:21)
-Bruno Malfacine defeated Rafael "Mini-Man" Pereira by Submission (Armbar, Round 1, 3:18)
-Cleiton "Predador" Silva defeated Ahmed Amir by Knockout (Round 2, 4:21)
-Carlos Souza defeated Georges Bardawill by Unanimous Decision
-Bruno Assis defeated Douglas Carvalho by Submission (Armbar, Round 1, 2:04)
-Marcel Adur defeated Fernando Lourenço by Knockout (Round 2, 2:35)
-Rodrigo Cavalheiro defeated Alessandro Gambulino by Knockout (Round 1, 2:21)
-Luana Pinheiro defeated Elaine "Pantera" Leal by Submission (Guillotine Choke, Round 1, 4:46)
-Arnold Quero defeated Caio Gregório by Unanimous Decision