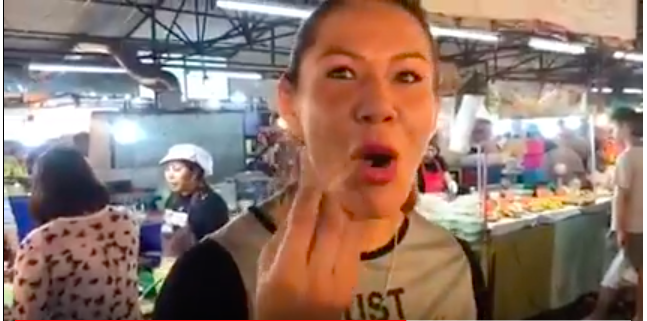 If you have been following the travel adventures of Cris Cyborg over the years, you know she is a candidate for the next season of FEAR FACTOR!  Fans have seen her eat the Peruvian delicacy of Guinea Pig high in the Andes, a tarantula in the streets of Siem Reap, and a Scorpion from Koh San Road.
Visiting Phuket Top Team in Phuket Thailand ahead of an expected December fight against Holly Holm, UFC Champion Cris Cyborg recently had an opportunity to visit the Thai weekend market with Bethe Correia who fought Holly Holm as the main event at the recent UFC Singapore.
Bethe quickly located the Thai food vendors at the Chalong Night Market, and then shocked everyone, CYBORG included when she ordered the kaleidoscope of bugs and insects from one of them!  Un daunted Cyborg grabbed a stick of her own and joined Bethe Correia in the bug buffet.
Would you be able to eat a bag of friend insects? A good source of protein, this is a staple in the diet of many Thai's who are from the poorer Essan community towards the North of Thailand.  What is the most exotic or strange thing you have ever eaten?
Do u think Bethe Correia will have any insight to share with Cyborg about fighting 3 rounds as Holly Holm's most recent opponent?