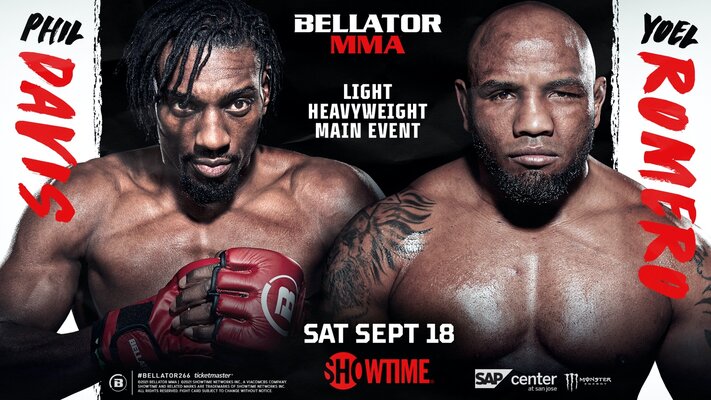 Bellator 266 is back with a blockbuster card from San Jose as long time Strikeforce, UFC veteran Yoel Romero makes his Bellator MMA debut against the #3 ranked LHW fighter in the world Phil Davis.  The Co Main event will feature the newest generation of the Gracie's as Neiman Gracie steps up to face the 12-3 mark Lemminger.
Also in a featured bout Colombian Alejandra Lara will face Invicta FC veteran Deanna Bennett in a fight that is guaranteed to be action. Long time California veteran Georgi Karakhanyan steps up on short notice to face Saul Rogers from the UK and a pair of unbeaten in Grant Neal and Christian Edwards look to remain undefeated as they face tough tests in Alex Polizzi (8-1) and Ben Parrish (4-1) respectively.
Russian Middelweight prospect Khalid Murtazaliev will face Anthony Adams as Abraham Vaesau will battle the 2-2 Albert Gonzales.  Rhalan Gracie will look for his first win against Shane Kiefer as well as Ediwn De Los Santos and wrestling prospect turned MMA talent Jesse Delgado who will be making his MMA debut.  Following all the preliminary action catch Bellator 266 main card live on Showtime and SHO SPORTS!
If you haven't visited the Cyborg Nation Online store, be sure to support Cris Cyborg with your purchase.  Enjoy weekly technique thursday, monthly Q&A session, and more with the Cyborg Nation premium membership–register here.