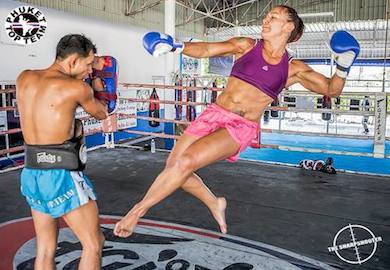 12 years unbeaten, 90% KO/TKO Win Ratio, and the only women in WMMA to capture 3 premier world titles in 3 of the world's top mixed martial arts promotions, Invicta FC, Strikeforce, and now UFC Champion Cris Cyborg went Beast Mode in her latest training session in Phuket Thailand and Phuket Top Team!
Training with 2x Rajadamnern Stadium Champion Namphon PK Stereo, Cris showed the world that even though she is champion, she is still preparing for her UFC 219 fight against rumored Holly Holm like she is the #1 contender fighting for the belt for the first time.
Namphon a Southpaw striker who captured the Rajadamnern and WMC world titles in 2 different weight classes is a former Thai Army boxing champion who has been working with Cris Cyborg exclusively as she is preparing for an expected UFC 219 showdown with Winklejohn pupil Holly Holm in Las Vegas New Years Eve.
This fun video shows a sneak preview and tour of the Phuket Top Team facility located in Phuket Top Team where many of the top UFC fighters including Tito Ortiz, Rashad Evans, Michael Bisping, and Ilir Latifi have spent their training camps.
Having trained at Phuket Top Team each of the past 3 years, Cyborg has steadily improved her Muay Thai to match her aggressive boxing style that compliments her wrestling and the BJJ which has won her 2 world titles in Brazilian Jiu Jitsu while competing in the Gi.
Currently PTT is considered the Home of Brazilian Jiu Jitsu in Thailand as the program is led by 4th degree Brazilian Jiu Jitsu Black belt Olavo Abreu under Carlson Gracie Jr.  People interested in traveling to Asia to train in Muay Thai, Brazilian Jiu Jitsu, or MMA with the world renown Phuket Top Team can check out the website for more details!
While nothing has been officially announced for UFC 219, fans interested in watching #CYBORGvHolm should use their social media to contact Dana White and the UFC via Facebook, Instagram, and Twitter with their fight requests for Dec. 30th! NOW GO SOUND OFF #CYBORGNATION