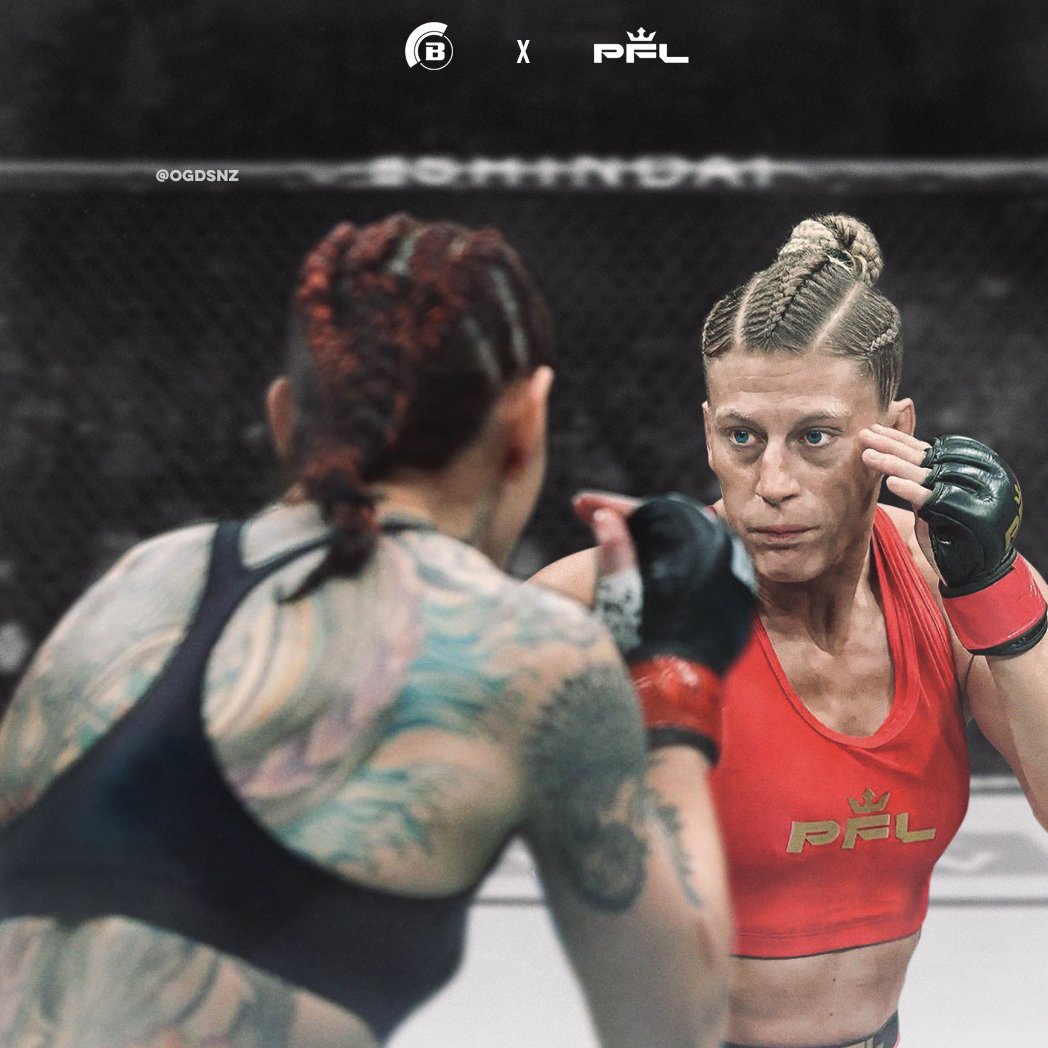 –FAN Article Submitted for publish.
Fans who have been hoping a showdown with MMA's only Grand Slam Champion Cris Cyborg and 2x Olympic Judo Gold Medalist and PFL Tournament Champion Kayla Harrison may have received a bit of bad news when MMA Manager Ali Abdelaziz told fans "This Fight will probably never happen"–before going on to say that even he wouldn't pay 70.00 to buy the fight continuing to say that average people are not going to buy it.
Kayla Harrison who is a 2x Olympic Champion and PFL Tournament winner first turned professional in 2018 and is currently 13-0 in her career, however her 'star potential' has yet to crossover and connect with fans.  Despite being verified on her Social Media Platforms, and having significant promotional pushes on the ESPN Network and the ESPN + platforms during both of her PFL Tournament runs, her overall social engagement suggest she still needs further crossover exposure before being able to headline any PayPerView capable of brining in 'Average People' when looking at her managers statements.  With less than 50,000 followers on Twitter, under 175,000 follows on Instagram and only a couple of thousand subscribers on her YouTube Channel it would appear that her Manager Ali Abdelaziz has done the analytics of her social engagements, overall trend history, and development to see that the 2x PFL Tournament Champion still needs an A side to help promote the event.
Ali Abdelaziz went on to say that Kayla doesn't need Cyborg to prove anything to anyone, going on to mention that the PFL star is getting paid 7 figures every fight to beat "whatever they are going to give her" –giving fans the implication that she is very comfortable facing opponent below her level regardless of name recognition, and putting PFL in a precarious position as they have already announced they plan to launch a PPV division of their promotion with her being schedule as one of the first athletes to have an event built around her.
"This fight will probably never happen!"

Kayla Harrison's manager Ali Abdelaziz says "nobody gives a sh*t" about his client fighting Cris Cyborg. 🤔 pic.twitter.com/2yWFrGzhBR

— MMA Junkie (@MMAJunkie) May 23, 2022
Cyborg who is one of the only proven draws in the sport of Mixed Martial Arts has a history of over 18 years of producing some of the biggest fights in the history of the sport of MMA.  Even before winning a World Championship, Cyborg was establishing herself as one of the sports biggest draws, let's take a quick look at her history.  She currently has a combined Verified Social Media of over 3 Million Followers (compare that to Kayla's 225K supporters)
Making her debut in the USA in 2005 Cris Cyborg fought on the main card of the CBS broadcasted Elite XC against Shayna Baszler who would go onto UFC and WWE fame following the loss.  Fans witnessed one of the sports first WMMA fights as over 2.6 million fans watched the Main Card live on CBS with her second appearance on an Elite XC drawing over 4.5 million viewers during the main card on CBS.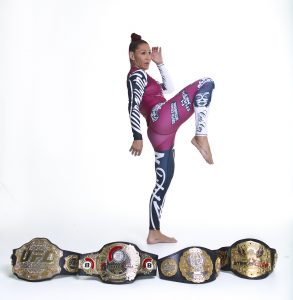 With StrikeForce Cyborg had an opportunity to compete on some of the biggest events, headlining against Gina Carano to win her first World Championship in 2009 fighting on SHOWTIME with over 856,000 fans tuning in for her fight as the main event.
Competing for Invicta FC, Cyborg was able to headline events building Invicta FC into one of the highest rated programs on the UFC Fight Pass in 2015, forcing enough demand on the UFC that they needed to bring her off of the Fight Pass Platform.  Competing her first fight in her Hometown of Curitiba Brazil, Cyborg fought in front of over 50,000 fans in 2016, proving herself a DRAW in her native country-and marking the last time the UFC has promoted an event in Curitiba despite the record of tickets sold.  Competing on Fox Sports 1 Cyborg drew 1.3 million live views, which is the most watched fight headlined by a female main event in the history of the network.
Headlining her first PPV in 2019 Cyborg would face Holly Holm in the main event of UFC 219 on a fight card which featured no other Championship Bouts and made it one of the most successful PPV's of the year for the promotion.  Fighting again in 2019 Cyborg faced a relative unknown Yana Kunitskaya, who was making her UFC debut and had similar socials to Kayla Harrison still did a 'rumored' 260,ooo buys despite competing against a Deontay Wilder boxing match on the same evening.

Over 1 million views on the CBS upload of this fight (Judo Kayla currently does not have any videos with a million views on Youtube fight related)
Transitioning to Bellator MMA, Cyborg has helped build value for the company with her Title fight against Julia Budd still being one of the most watched Female fights ever broadcasted on the DAZN streaming app.  Despite moving from CBS Sports and SHOWTIME, Cyborg has helped build leading combat content for Bellator MMA with her most recent appearance in Hawaii being in front of over 10,000 fans, a gate considerably larger than anything Kayla has been able to draw over the duration of her 13 fights.
For Kayla Harrison's Manager Ali, it appears that even with a proven opponent like Cris Cyborg they are not confident in the  Judo Star's crossover potential to headline a PPV,  Despite the fact that Cyborg has 18 years within the sport, and has been a proven draw for leading promotions like Elite XC, StrikeForce, Invicta, UFC, and Bellator and having worked successfully with broadcasters such as CBS, Fox Sports,CBS Sports, Showtime, and streaming sites such as DAZN and UFC Fight Pass and a history which Includes a proven PPV history.
More like Legend Ducker 🦆 🦆🦆 😂😅 pic.twitter.com/hydlWNY7MA

— 👀 Muay Thai fights CrisCyborg.com (@criscyborg) May 23, 2022
Despite Kayla Harrison promoting herself by wearing a gimmick to her last fights media day in a hope that fans and media members would ask her about a 'Fight with Cyborg' the 2x PFL Champion Kayla Harrison now seems content with being a 'Legend Ducker' as Cyborg most recently posted on her social media.
Unfortunately when an athlete like Kayla is more comfortable making "7 figures every fight, beating whatever they are going to give her", it is going to put the PFL into a difficult position when they need to find a proven opponent, however as Ali implied, perhaps there will come a point where she can do a PPV against an Amanda Nunes or a Juliana Pena; one day, however both those athletes are currently under contract with the UFC.
Perhaps one day the fans will still see the showdown between Striker Vs. Grappler, however it appears with Ali's most recent advice, that the MMA Grand Slam Champion Cris Cyborg needs to ensure the "A side" is Guaranteed as even the manager has doubts about his fighters ability to headline a PPV, or perhaps the performance shown during her last fight has him nervous for a matchup against a striker such as Cyborg.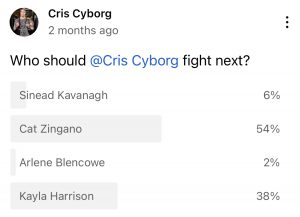 For Cyborg, according to a recent poll conducted on her Social Media it appears fans are more interested in seeing her stay in her natural weight class of 145lbs instead of moving up in weight to compete at LightHeavyweight.  By a considerable margin fans voted that they would prefer to see Cyborg face Cat Zingano, a woman who has defeated both Amanda Nunes and Miesha Tate and who is currently undefeated at 145lbs.
What about you? Who would you prefer Cyborg faces as her next opponent? Sound off in the comments below.