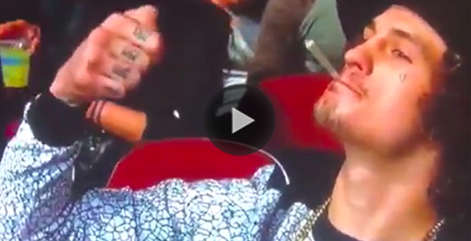 You can now add Sean O'malley to the growing list of UFC Athletes bringing Marijuana to watch the fights.  Giving the fans his best Nate Diaz impersonation at UFC Glendale, Sean O'malley held up a pre-roll, however unlike Nate Diaz he didn't bring a lighter, and simulated the "light it up" with his thumb.
Sean O'malley fought along side Cris Cyborg at UFC 222 in Las Vegas, and following his FOTN performance had his own afterparty where he introduced his own strain of weed to the world.  Check out the right up on HighTimes Magazine HERE.
While Marijuana is recreationally legal in several states, it is still banned in others. The UFC is an expanding global product and images of their fighters holding up marijuana could further prevent the promotion from expanding into markets like China, Japan, Dubai, Abu Dhabi, Philippines, Brazil and other regions where the stigma to Marijuana is still negative and criminal in act.  With the UFC looking at global expansion as a way of monetizing the brand it will be interesting to see if WME continues to let Athletes broadcast their lifestyles on their platforms.