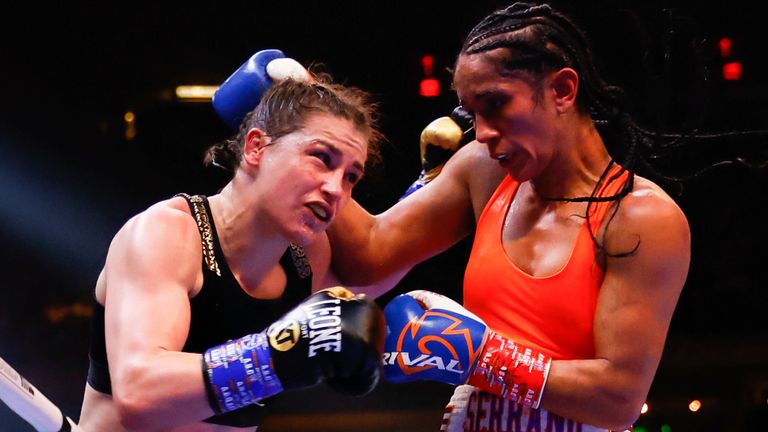 Katie Taylor had a tough fight against Amanda Serrano this past Saturday and she is still undefeated. Katie has a record of 21-0 and 6 of those wins by knockout. I fyou don't know who the champ Taylor is, Katie Taylor is an Irish professional boxer and former footballer. She is a two-weight world champion and the current undisputed lightweight champion, having held the WBA title since 2017; the IBF title. Katie is currently 35 years old and her birthday is July second. She now has a record of 21-0 after beating Amanda Serrano by decision. 

And her opponent Amanda Serrano is a Puerto Rican professional boxer, MMA fighter, and professional wrestler. As a boxer, she is the unified featherweight world champion, having held the WBO title since 2019; the WBC title since February 2021; and the IBO title since March 2021. She is currently 33 years old and was born in Carolina, Puerto Rico. She has a record of 42-2-1 and has fought many really good girls before like Yamileth Mercado, Daniela Romina Bermudez, Dahianna Santana, Heather Hardy, and the list goes on. They both did really good in the fight and the fight was taken to decision after 10 tough rouds of straight up throwing hands by both fighters, and sadly for Serrano the judges decided that Taylor won the fight. 
Many really important people were in the fights like Jake Paul, Javon Wavon, Ryan Garcia, Claressa Shields and the Grandslam Champion Cris Cyborg who was there to support the fighters. Make sure to stay tuned for next weekend May 7th since Canelo is going to be fighting Bivol in Las Vegas. This fight should be really exciting since Canelo has been undefeated for many years and Bivol is a really great boxer with 19 wind and 11 of them being knockouts and no losses. In 2013 he won a gold medal at the World Combat Games in the 81kg weight class.
The weigh ins are going to be happening May 6th along with the press conference. Make sure to watch this fight and stay tuned on the website to know what is going to be happening throughout the week in the fighting world.