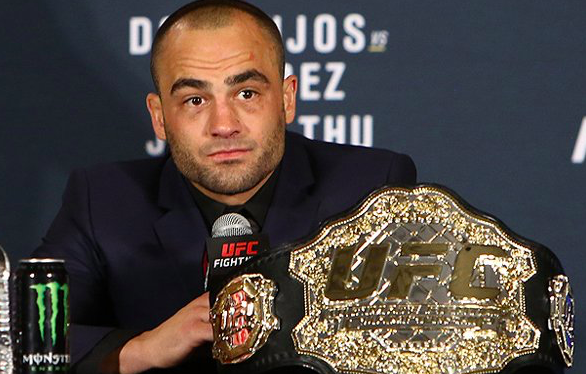 The UNDERGROUND KING, Eddie Alvarez has one fight remaining on his current UFC contract and doesn't seem happy with the state of his renegotiations.  Speaking to Cyborg Nation favorite Ariel Helwani Eddie Alvarez revealed that he does not plan on fighting again until he has signed a new deal.
A perennial lightweight, Eddie Alvarez made his MMA debut in 2003 and quickly started establishing himself on the scene with wins against Derrick Noble, Aaron Riley, and Matt Lee before bringing his talents to Japan to face and beat legends Tatsuya Kawajiri and Joachim Hansen. Signing with Bellator MMA Eddie Alvarez eventually became promotional champion that concluded with a three fight win streak against Paricky Freire, Michael Chandler and a revenge match against Shinya Aoki.
After an initial loss to Donald Cerrone it his UFC debut Alvarez went on to beat top contenders Gilbert Melendez, Anthony Petttis, and Rafael Dos Anjos–fighting for an Interim title before losing to Conor McGregor at UFC 205.
Alvarez who fought McGregor for the UFC world Championship made 500,000$ competing for the belt, while McGregor made a reported 3.5 million.  Alvarez who appeared on the MMA hour stated that the current offer being presented to him by the UFC only slightly increased his starting base salary from the original contract he entered into the UFC with.  It is reported by TheSportsDaily.Com that Alvarez made 100,000$ for his UFC 178 appearance and that his contract almost 4 years later, following winning the UFC Championship and high profile fights against Conor Mcgregor and wins over RDA, Pettis, and Gilbert Melendez has him on the same pay scale.
Rumors that Eddie Alvarez is an interesting fight for Nate Diaz, and is one that he is interested in heading into UFC 227 in LA means that Alvarez might be in optimal position to negotiation new terms. Coming off a win over Justin Gaethje at UFC 218 and with interesting fights with Diaz, a rematch with Poirier, and a possible showdown with Khabib still on the table there is a lot of money to be made in the promotion with a fighter like Alvarez.  We will update you as the story progresses.
Spoke to @Ealvarezfight today. Asked him about the possibility of fighting Dustin Poirier in Calgary on 7/28. "It's not f*cking happening," he said. "I'm not fighting until I get a new deal." Alvarez currently has one fight left on his deal. Also …

— Ariel Helwani (@arielhelwani) May 2, 2018
Spoke to @Ealvarezfight today. Asked him about the possibility of fighting Dustin Poirier in Calgary on 7/28. "It's not f*cking happening," he said. "I'm not fighting until I get a new deal." Alvarez currently has one fight left on his deal. Also …

— Ariel Helwani (@arielhelwani) May 2, 2018