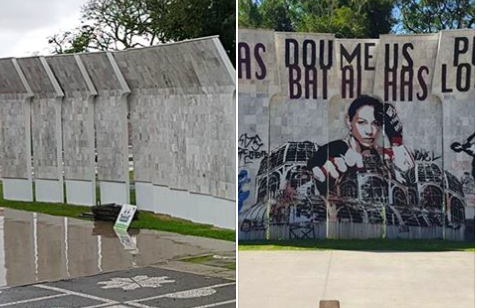 Cyborg Nation fans are furious at the news that Curitiba Mayor Rafael Greca ordered the mural of Cris Cyborg created in her image to be removed.  The mural was pained in her image during the build up to her fight at UFC 198 which was the first for the Brazilian in the UFC promotion.  Winning the fight against Leslie Smith Via 1st round stoppage in front of a sold out crowd of over 45,207 fans in the 3rd largest event ever promoted by the Ultimate Fighting Championship Organization.
The Mural was one of the few monuments in the sport to recognize female athletes for their achievements in the community.  Cyborg who is regarded as the #1 Pound for Pound female fighter in MMA according to ESPN is a proud patriot of the city of Curitiba and has played a vital role in the community with her positive influence and community outreach programs.
#CuritibaVoltaASerCuritiba White marble Paraná restored in its elegant splendor in the Afonso Botelho Square. #ZeladoriaUrbana The monument was coated with anti graffiti resin. Marble is not painted. #TudoLimpo # Curitiba325years
What is unusual about the decision to have the mural painted over is that Rafael Greca the mayor of Curitiba was in the minister of sports and tourism previously, which would clearly make him aware of Cyborg's impact within the community.
There is no word if the Mayor Rafael Greca has decided to recognize Cyborg for her community outreach in another manner.  Maybe 61 year old Mayor Greca is just a fan of Ronda Rousey, KKKKK