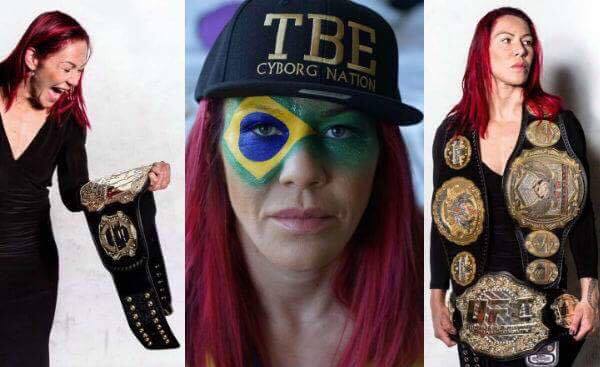 If the words from Holly Holm's manager Lenny Fresquez are final, and Holm has removed her name from the UFC 219 Dec. 30th fight date, then other opponents will need to start being looked at in order for Cris Cyborg to defend her 145lbs Championship fight before the end of the year.  Cyborg who has been campaigning for a fight against Holm since she successfully defeated  Tonya Evinger in July at UFC 214 in Los Angeles.
While Holly Holm has been the preferred opponent for the Dec. 30th year end UFC event, Cyborg stated last week that even if Holm does not fight Dec. 30th, it is still her desire to defend her belt in Las Vegas New Years Weekend.  Looking at the available options for a Title Fight against Cyborg in December given Holm passes on the opportunity fans can probably expect a matchup against one of the girls below;
https://www.youtube.com/watch?v=INZ_UzcO5P8
1. Cat Zingano has beaten both of the UFC's past two Bantamweight World Champions stopping both Amanda Nunes and Miesha Tate with Elbows Knees and Punches.  While setbacks have seen Cat Zingano winless over the last 3 years, its mostly due to inactivety as she has taken a year off since going 0-2 at Bantamweight.  A return to the octagon at 145lbs would be a great way for her to re invent her career by moving up to a more natural weight class at 35 years of age.  Dec. 30th might be a bit of a rush for a fighter who has been out of the cage for almost 15 months, and a return against Cyborg might be a difficult first fight at the new weight class, but fans will recognize a fighter with Cat Zingano's name recognition and it will no doubt generate significant PPV buys.
2. Megan Anderson seems to have become the forgotten fighter in this Cyborg opponent quest.  Signed to the UFC to originally face Cyborg at UFC 214, Anderson a native of Australia had to withdrawal her name from the competition due to personal issues.  Standing at 6 foot she is a true 145lber in every sense of the word.  Having won her last 4 fights via TKO or KO she is 8-2.  While she hasn't defended the Invicta FC belt since wining the vacated belt against Charmaine Tweet Jan. 14th 2017, her only defeat inside the Invicta cage came against UFC veteran Cindy Dandois.  While Megan seems to be a logical choice for Dec. 30th, Cyborg recently tweeted her wishes at an opportunity to main event the UFC Perth when the promotion travels to Australia early 2018.  With Megan Anderson being from the Gold Coast it would seem natural to have her face Cyborg in Australia if her personal matters have not been cleared up by Dec. 30th.
3. Cindy Dandois has wins over WMMA legend Marloes Coenen, Currently Invicta FC Champion Megan Anderson, and Muay Thai legend Jorina Baars (who defeated Cyborg in Lion Fight) it is easy to say Dandois has established her credentials at 145lbs.  Additional wins against Ibragimova,Gaff, Jessamyn Duke, Maria Djursaa, and her only defeats against Yana Kunitskaya, Alexis Davis, and Evinger Dandois has proven herself as a durable opponent.  Dandois who is coming off a loss to Alexis Davis didn't show the best striking at UFC fight night 108, however it gives fans an opportunity to see Cyborg fight a traditional Judo stylist with an attack similar to Ronda Rousey's approach.  Dandois has been outspoken in her willingness to fight Cyborg, however it has been remained to be seen if that can create enough fan interest to get the World Title fight booked at 145lbs.
https://www.youtube.com/watch?v=hHkTkMZLJ2M
4. Yana Kunitskaya with a 10-3 record this Russian just recently won the Invicta FC Bantamweight belt vacated by Tonya Evinger defeating BJJ Black Belt Raquel Pa' aluhi by decision at Invicta FC 25.  Having a controversial submission by armbar victory overturned by the Missouri commission against Evinger at Invicta 20, she lost via RNC 4 months later in the rematch.  With a notable win against Chinese MMA star Yanan Wu and submission specialist UFC veteran Cindy Dandois for M-1 Yana has proved herself as one of the top fighters able to compete  between the 135 and 145 weight classes.  With every UFC female champion being an Invicta FC veteran currently, maybe Yana will be the next from the promotion to get an opportunity at the promotion.
5. Pam Sorenson is another "TRUE" 145lber with a 6-2 record and her only two losses coming via split decisions to Ediane Gomes and undefeated KOTC star Shanna Young.  With a notable win against Helena Kolensyk after replacing Megan Anderson who signed a contract to be Cris's opponent at UFC 214 before having Tonya Evinger take her place Pam has also beaten Australian International MMA fighter Jessy jess and New Mexico's Brenda Gonzales. Pam is a true 145lber and is essentially next in line for the Invicta FC belt currently being tied up by Megan Anderson.
https://www.youtube.com/watch?v=iKd27qmTOIw
6 Amanda Nunes is 8-1 in the UFC at Bantamweight and has defeated Shevchenko, Rousey, Tate, McMann, GDR in the process.  While Holly Holm is next in line given the fact that Shevchenko is dropping to 125lbs, Nunes has stated she wants her rematch with Cat Zingano who has been in-active of late and lost her last two bouts.  Given the amount of buys a fight Vs. Cris Cyborg could do Nunes maybe tempted to return to featherweight for the superfight and an opportunity at another MEGA PPV fight.  With the UFC announcing a date for Brazil early next year, it seems a Dec. 29th bout would be a bit rushed, but given the news that Nunes was already preparing for a possible fight against Raquel Pennington before her car accident, you never know if she will be tempted by the UFC.
https://www.youtube.com/watch?v=4l3E5PY2kOs
 7. Reina Miura This one is probably the least likely on the list, however the UFC showed with PRIDE FC previously that they were willing to work with fighter exchanges.  With no real fighters signed at 145lbs, maybe the UFC would be willing to make an offer to the current Undefeated PRIDE OF JAPAN Reina King Miura who faced Team Cyborg pupil Crystal Stokes at the last RIZIN FF event in Japan.  A judo specialist Reina has impressed fans by fighting girls well above her natural weight of 155lbs.  With wins over WWE wrestler Jazzy Gabert, Shayna Baszler UFC veteran Miura still has not shown she can make 145lbs.  Currently only 21 years old the undefeated 7-0 King Reina would need to master her diet, and her management would need to reach an agreement with RIZIN and the UFC to allow her the opportunity to compete in the Biggest fight she could be a part of.
https://www.youtube.com/watch?v=vNUXeNcLKHY
8. Ediane Gomes is a BJJ black belt and despite losses to Tonya Evinger and Raquel Pa'aluhi in her most recent fight she defeated Pam Sorenson via a split decision.  This HERO'S Vale Tudo legen has wins over Yamanaka, Leslie Smith, and Ana India Maria.  At 11-4 Gomes two other defeats came against current UFC Champion Amanda Nunes and UFC legend Ronda Rousey.  With only 1 fight in the past 2 years Gomes has been active in trying to get a fight.  Having already previously been scheduled to fight Cyborg several years ago in Invicta before Injuries would this be an opponent the UFC could promote Cyborg's first Title defense against?
Dec. 30th is now 7 weeks away, and this means any fight accepted at this point will be with a shortened training camp for Cyborg. Fans on Cyborg Nation who are hopeful to see her defend her belt at UFC 219 in Las Vegas Dec. 30th need to get on their social media using the hashtag #CYBORGNATION and let Dana and the UFC know you want #TEAMCYBORG on #UFC219!!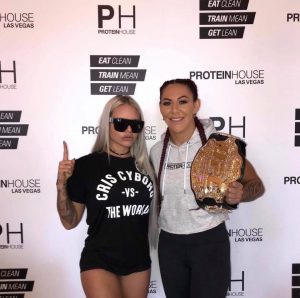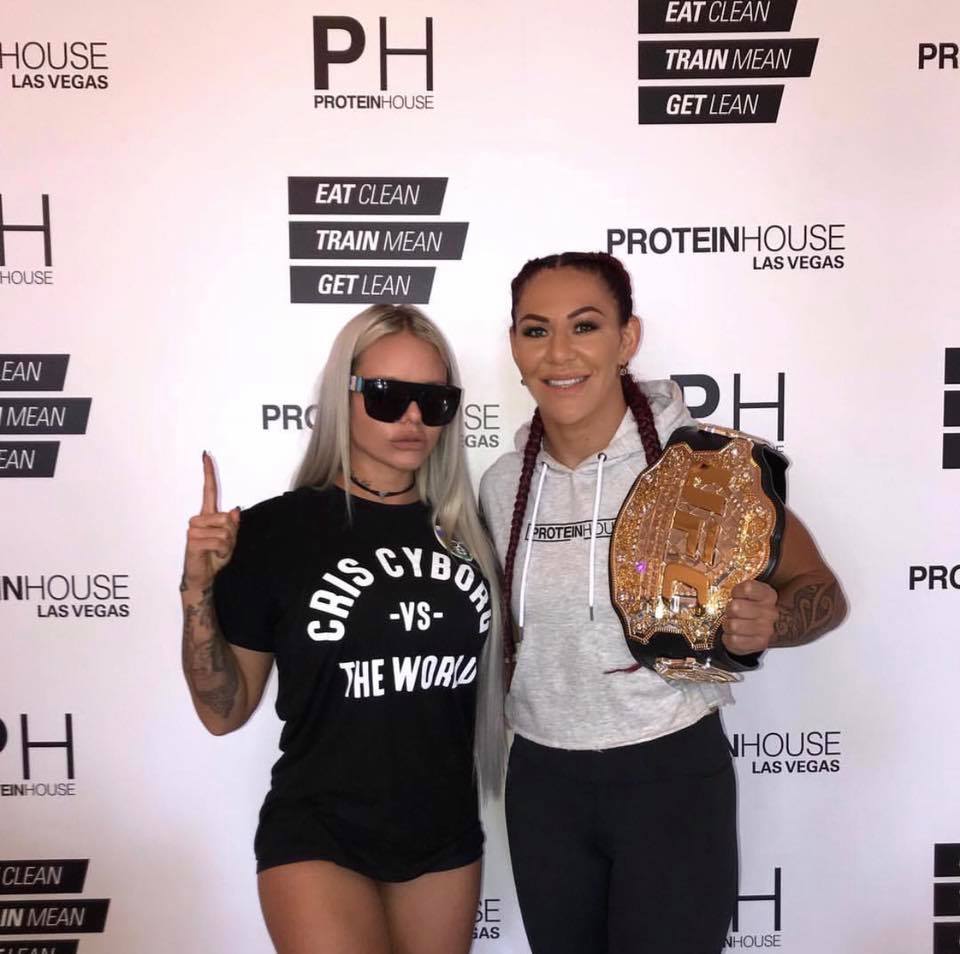 IF YOU STILL HAVE NOT PICKED UP YOUR CYBORG VS THE WORLD SHIRT YOU CAN GRAB YOURS NOW WITH INTERNATIONAL SHIPPING AND HAVE IT IN TIME FOR THE HOLIDAYS!!! GREAT GIFT FOR THAT MMA FAN YOU KNOW AND LOVE!! CLICK HERE TO BUY YOUR SHIRT NOW!