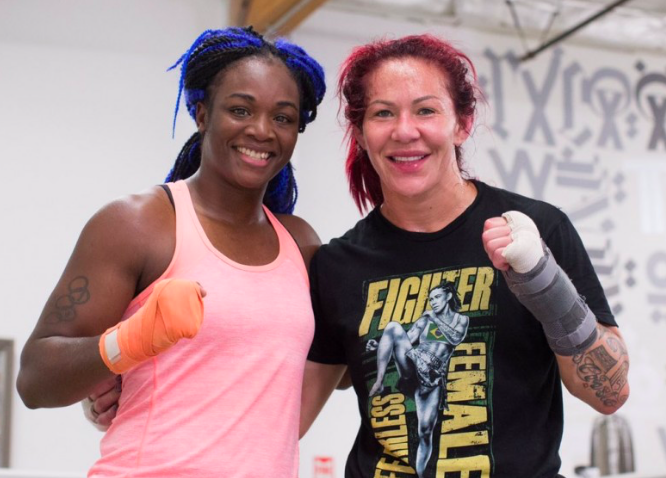 Despite being undefeated for 13 years and premier wins over Marloes Coenen, Gina Carano, and Holly Holm, Dana White doesn't seem too interested in giving Cris Cyborg a rematch.  Similar to how GSP lost to Matt Serra at UFC 83, after over a decade of dominance Cyborg watched her 20 fight winning streak come to an end Dec 29th against Amanda Nunes, a heavy underdog going into the fight.
Despite the loss, Cyborg is the only female fighter to have captured 3 world titles in three different MMA promotions; Strikeforce FC, Invicta FC, and the UFC championship belts on her resume.  Having trained in the past with 2x Olympic Gold Medalist and Undefeated professional boxer Claressa Shields, Cyborg was created immediately after the fight by the champ who went on to speak to Cyborg after the fight, in a conversation captured on the Cyborg Nation video series.
"What the fuck?" Shields told Cyborg in the locker room. "I'm not mad about the loss. I'm mad because you know how to fucking box. You shouldn't have been out there just trying to brawl. What you do that for? No. You fucking jab with me. Jab with her short ass. What the fuck?"
Cyborg who has asked her manager for a rematch against Amanda Nunes, still has not heard from the UFC on their plans for the Featherweight division.  With only 1 fight remaining on Cyborg's promotional contract it should be noted that the UFC website recently removed the Women's Featherweight division from their website, leading many fans to feel the rematch is unlikely.
If you don't have any official CRIS CYBORG apparel, make sure you order a new shirt or hoodie from our online store to let everyone know you are down with CYBORG NATION for the ComebackSZN