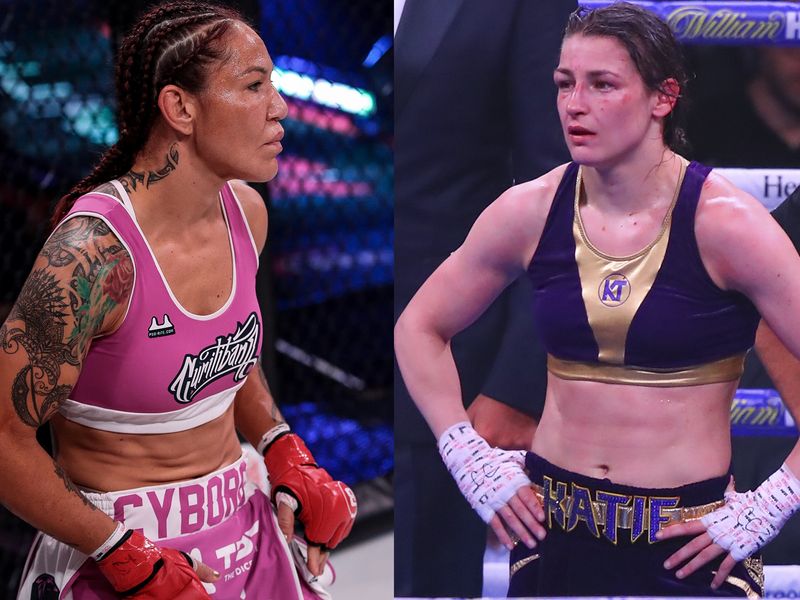 With news that Amanda Serrano is no longer interested in a Katie Taylor rematch, and that she is unlikely to accept that fight in Ireland, fans of Katie Taylor started to think they might not have an opportunity to see the star compete inside the historic Croke Park stadium in Ireland, that is until Cris Cyborg answered the proposal.
Speaking to the Irish Mirror, Cris Cyborg, who was named as one of 3 possible opponents by her matchmaker Eddie Hearn said that she "was ready to sit down and talk to Eddie whenever he is ready.  Right now he has mentioned my name in the media a few times, but for me I am serious about getting into boxing and if he is serious about being my promoter then I would love to talk to him."
Cyborg went on to say, "What he has been able to do for all of women's boxing, not just Katie Taylor has really helped elevate the sport for all the women competing.  I have told my management I am ready to sign a contract for my first professional boxing fight, the time is now."
Cyborg who is the winningest fighter in the sport of Mixed Martial Arts, and the only athlete Male or Female to be recognized as Grand Slam Champion after winning every major belt in the sport including Bellator MMA, UFC, Invicta FC, and Strikeforce championships has never competed in a professional boxing match but added: "To make it interesting for the fans she would have to be willing to do what Floyd Mayweather did against Conor Mcgregor and she would have to compete up in weight a little bit to give the fans the biggest fight that can be made in Women's Boxing.   Realistically I think the fight would have to happen at 143lb, but I think it would be a great fight for both of us and we could share a part of our soul with the Crowd that night.
Cyborg who recently attended the Amanda Serrano bout against Katie Taylor was live in Madison Square Garden for the fight will be publishing a Behind the Scenes video from the trip on Monday on her Youtube Channel.  If you do not subscribe to the champs channel be sure to check her out here. Champ Cris Cyborg knocked out Irish Boxing Champion Sinead Kavanagh in under 90 seconds her her MMA matchup.