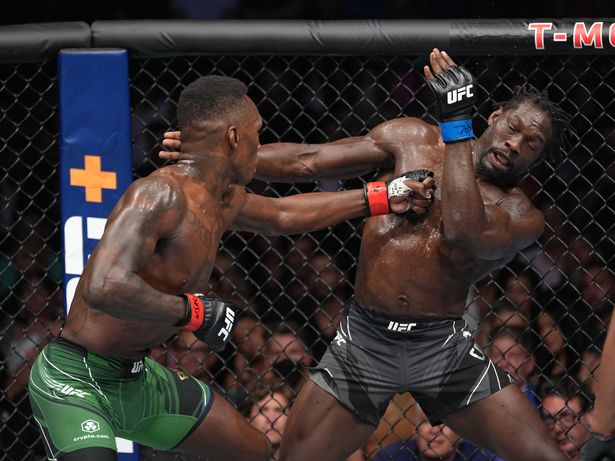 The champion Israel Mobolaji Temitayo Odunayo Oluwafemi Owolabi Adesanya also known as "The Last Stylebender"  is a Nigerian-born New Zealand professional MMA fighter, and former kickboxer and boxer. As a mixed martial artist, he is currently signed to the UFC where he is the current UFC Middleweight Champion. This fight should be really tough for both opponents since the last fight was won by Adesanya by a knockout in the second round of their last fight which was in 2019. His opponent Robert "The Reaper/Bobby Knuckles" Whittaker has a record of 23-6 and has fought many legends like Darren Till, Israel Adesanya, Yoel Romero, Ronaldo Souza, Rafael Natal, and the list goes on.

And his opponent "The Killa Gorilla"  Jared Christopher Cannonier is an American professional mixed martial artist. He is currently fighting in the Middleweight division for the Ultimate Fighting Championship. As of February 14, 2022, he is #2 in the UFC middleweight rankings. He has a record of 15- 6 Robert Whittaker ,Derek Brunson, Kelvin Gastelum.

The Last Stylebender" Adesanya might be facing a really tough opponent for the third time to who is actually the best fighter. His opponent is  Robert John Whittaker who is a New Zealand-born Australian professional MMA fighter. He is signed to the UFC, where he is a former UFC Middleweight Champion. This fight should be pretty tough since he is going to be facing the beast Israel Adesanya who has a record of 23-1 and has fought many stars before like Rob Wilkinson, Marvin Vettori, Anderson Silva, Paulo Costa, Kelvin Gastelum, Yoel Romero, and is now might be  facing Whittaker for a third time after defeating him twice before in his career. 

This fight was really fun and interesting to watch since both fighters have had such good fights and both of them win most of their fights by knockouts too. Most people thought and were right that the win was going to Adesanya since he has beaten his opponent twice before in very easy ways. However, of course that there are the people that were on Cannonier's side and say that he has also a really big chance of winning