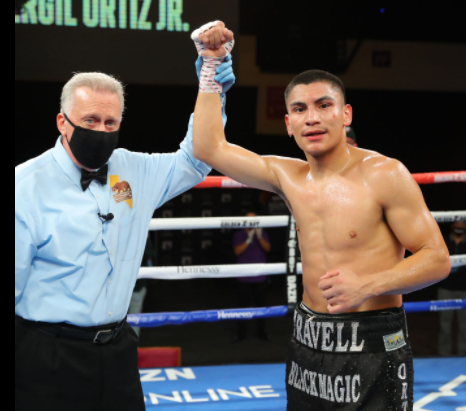 This weekend on the 14th Cris Cyborg is going to be going to her friend Vergil Ortiz fight's that is going to be fighting Egidijus Kavaliauskas who is a is a Lithuanian professional boxer who fought  for the WBO welterweight belt in 2019. He is 33 years old and was born in June 29, 1988. 
At local level, he held the WBC-NABF welterweight title from 2017 to 2019 and the WBO Inter-Continental welterweight belt in 2018. Vergil Ortiz Jr. is a Mexican American professional fighter who  has kept the WBO International welterweight title since 2021. As a begginer, he was a seven-time national champion and  he was  the winner at the 2013 Junior Olympics. He was named 2019 The Ring magazine Prospect of the Year. Vergil is going to be facing Egidijus Kavaliauskas in Frisco, Texas at The Ford Center at The Star. Vergil is 23 years old and was born March 25, 1988. He started boxing with his dad Vergil Ortiz Sr. since he was a child and now he is still with his dad training at the champion Robert Garcia's gym. His dad Vergil Ortiz Sr has been his trainer since the beggining of his career and he started boxing at a very young age in Dallas Texas. Both Sr. and Jr. are going back to Texas to continue getting ready for the fight as Jr is going to be fighting for the belt and is probably going to be one of the biggest fights and challenges that he's been through since the beggining of his career
Cris Cyborg is a world MMA champion, today fighting in Bellator. Cris Cyborg has 4 different belts including  a Bellator, UFC, Invicta and Strikeforce belt.  Cyborg was born in Curitba, Brazil and now lives in Huntington Beach, California. Cris started to get involved in sports when she was around 15, she started with Handball and one day a MMA coach from a well known gym in Brazil named Chute Boxe saw her training  and asked her to participate in one of the practices, she did and ended up falling in love with it. Cris Cyborg has a passion for animals and is the owner of Two dogs, a Bengal cat, a mini pig,  a Maine Coon and multiple Fish & Birds at Cyborg's zoo.